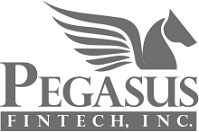 Blockchain & Crypto | Toronto, ON | Founded: 2017 | Employees: 10 | www.pegasusfintech.com


Last updated December 20, 2018 | To download a PDF version, click here. 


Company Overview
Pegasus Fintech is a full-service blockchain, technology, and token accelerator that focuses on supporting regulatory compliant public initial offerings (PIBCO). The company is made up of investors, developers, marketers, consultants, and provide a diverse range of integrated services and solutions to start-ups and emerging enterprises in the financial technology industry.


Senior Management
David Lucatch: Founder and Chair (2017-Present). Previously: President, Imagination 7 Ventures LLC (2015-Present); Founder, Crowdgener (2017-Present); Partner, Catch Star Studios (2016-Present); Partner, Fandster (2017-Present); Founder, Yappn (2013-2017); CEO, Intertainment Media (2005-2006); CEO, Valu-net International (1994-2000). Education: B.A., Commerce, Economics, University of Toronto (1981-1985).
Gary Schwartz: Co-Founder & Managing Director (2017-Present). Previously: Author, Simon and Schuster (2008-Present); Executive Chairman, Thinkwire (2015-2017); Co-Founder & Managing Director, Paays Financial Technologies (2018-Present); Co-Founder & President, Canadian Lenders Association (2017-Present); Senior Advisor, LifeWIRE Group (2014-2017); Founder, Impact Mobile (2001-2018). Education: B.A., East Asian Studies, Journalism, Columbia University (1984-1987); Master's degree, East Asian Studies, Stanford University (1985-1987).


History
Pegasus Fintech Inc., based in Toronto, was founded in 2017 by David Lucatch with the mission to support founders and emerging companies with the intent to maintain long-term ownership and promote growth opportunities through crowd based funding programs, including the issuance of regulatory compliant cryptocurrency.[1] In October 2017, Global Payout, a payment solutions company, established a strategic partnership with Pegasus through its subsidiary, MoneyTrac Technology.[2] The aim of the partnership is to focus on development of cryptocurrency token for the cannabis industry and move closer to launch an ICO for MoneyTrac. In March 2018, Pegasus and Polymath established a partnership to work on technical integration and an advisory business for regulatory compliant security token offerings through Polymath's platform.[3]
[1] https://pegasusfintech.com/david-lucatch-ceo-pegasus-fintech-inc-joins-national-crowdfunding-association-of-canadas-advisory-group
[2] https://pegasusfintech.com/networknewsbreaks-global-payout-inc-gohe-subsidiary-teams-with-pegasus-fintech-inc-to-develop-cryptocurrency-based-token
[3] https://pegasusfintech.com/pegasus-fintech-and-polymath-collaborate-to-launch-blockchain-and-token-accelerator-and-advisory-business


Funding
No funding to date publicized for Pegasus Fintech.


Key Corporate Developments
Press releases: https://pegasusfintech.com/category/press-releases
Oct 24, 2017: MoneyTrac Teams with Pegasus Fintech, Inc. to Develop Cryptocurrency-Based Token
Mar 1, 2018: Pegasus and Polymath Launch Blockchain and Token Accelerator and Advisory Business
Jun 27, 2018: Shyft enters program partnership with Pegasus Fintech and Crypto KABN
Business Highlights
Strategy
Pegasus leverages regulatory consulting and advisory services to target one line of business:
ICO & ITO – Pegasus provides consulting services to clients who want an ICO or ITO legally and ensure they get them there. Through this process, legal security tokens are utilized to ensure Pegasus helps its clients avoid selling into companies in certain countries where its illegal.

Products/Pricing
PIBCO: The Pegasus Accelerator Program provides Blockchain and Token consulting and support services. Token offerings are compliant with jurisdictional regulations through the PIBCO process. Pegasus reaps fees from its clients successful ICO/ITO proceeds for a specific percentage fee.


Technology
Pegasus Fintech provides consulting services for companies in the fintech space, but it does not leverage any specific technology through its operations.


Distribution/Logistics
Pegasus Fintech gets many of its clients from the blockchain industry through conferences, events, and personal referrals or event participation.[4] Sample clients include WonderKoin Entertainment, Mortgage Blocks, Fan Blocks, and RemoteMyApp.[5] Most recently, it was approved as the first North American GBX sponsor firm, which will help expand its global presence to run utility tokens.[6]
[4] Phone call with AJ Ostrow, VP Blockchain
[5] https://pegasusfintech.com/clients
[6] https://pegasusfintech.com/pegasus-fintech-approved-as-first-north-american-gbx-sponsor-firm


Marketing
Pegasus does not do traditional marketing. However, it does have a PR team and occasionally is a sponsor at blockchain events.
Competitors
The rise of ICOs and ITOs has evolved over the past few years, and the importance of regulation and compliance is even more heated. As a result, there have been many players in the space acting accelerators to consult and advise start-ups in the space, for example:
Accenture – has launched a practice within its financial services group to help institutions and advise them on cryptocurrency systems and ensuring they have met regulatory requirements.
Waves Labs – provides support for pre-ICO projects and will not only provide seed funding, but also legal support and advice. It is aiming to get its charges fully up-to-date with compliance requirements.
Corporate Profile Created By: Arielle Luder, Ivey HBA