The Scotiabank Digital Banking Lab ("Lab") was established in April 2016, supported by a $3 million gift over 10 years from Scotiabank. As the first university research centre focused on financial technologies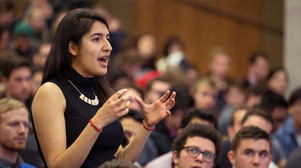 ("Fintech"), the Lab's mandate is to study and understand the implications of digital disruption for banking and financial services, and to prepare students to operate in an environment of changing technology and innovation. The Lab promotes student engagement, publishes targeted research, and engages in outreach to stakeholders in Canada and abroad.
Director
Prof. Romel Mostafa, Assistant Professor, Business, Economics and Public Policy, rmostafa@ivey.ca
For more information about the Lab's creation, you can read this Globe and Mail article and our special report on the Ivey News website.
Thanks for visiting us!