The Scotiabank Digital Banking Lab at Ivey Business School was set up in April 2016 based on a $3-million pledge over 10 years by Scotiabank. The Lab's purpose is to engage with the digital transformation that affects the financial sector, and become a leading voice in the FinTech space. The lab conducts both academic and practitioner-oriented research on FinTech, fosters student engagement at Western University and beyond, develops cutting-edge educational material, and engages with established players in the field, with startups, and with regulators.
Our Speaker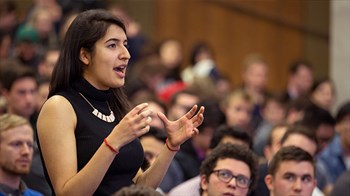 Series was inaugurated in Toronto in May 2016 with a fascinating talk by Ray Sharma on human evolution and innovation. In October 2016, the Lab sponsored Hack Western 3, a hackathon event open to high school and university students across the country. In the Fall of 2017, the Lab will organize the first annual Toronto FinTech Conference, which will bring together the world's leading FinTech scholars in the fields of strategy, innovation, economics and finance, as well as seasoned industry leaders.
For more information about the Lab's creation, you can read this Globe and Mail article and our special report on the Ivey News website. All the Lab's activities are detailed on this website. Thanks for visiting us!