One mandate of the Scotiabank Digital Banking Lab at Ivey Business School is to shape a new generation of technologically savvy and innovative leaders for the financial services industry. The Lab provides Ivey HBA, MBA, and MSc students with onsite experiences at Scotiabank and the Scotiabank Digital Factory through internships, summer rotations, and research projects. We also provide mentoring and educational opportunities through the Ivey FinTech Club (founded in 2016) – the first Canadian university club devoted to studying digital disruption and FinTech innovation.
Ivey students who are interested in these opportunities are encouraged to contact us by email at: digitalbankinglab@ivey.ca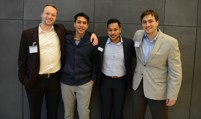 November 9, 2017
Congratulations to the team of Ivey MBA students, Akshath Goyal, Izaak Trotter-Ries, Souvonik De, and Manuel Cerrutti who won first place at a case competition organized by Paytm and held at the Rotman School of Management.

The winning presentation can be viewed here.
For more information on the team and this case competition, please read the full news story here.
by Jessica Lomazzo
IFP Executive Summary
The following presentation is an extract of my Ivey Field Project deliverable for the Ivey Scotiabank Digital Banking Lab. Note that I am a fourth year student at the Ivey Business School with no prior research or experience on this topic or in the space – I do not claim to be an expert, merely an enthusiast.
The project's purpose was to understand the current state of the MFDA wealth management space in Canada and what it may look like in the future given the introduction of new technologies. Process flows and value chains were analyzed to understand areas that were unusually sensitive to innovation and/or disruption and to predict how they may develop over time.
Read more about this project and view the full presentation.
The weekend of January 14-15, 2017 marked the first two days of the Ivey FinTech Club's comprehensive four-day "Finance and Technology Bootcamp". Covering 21 topics and run entirely by students facilitators, this intensive event brought together over 100 undergraduates (HBAs), MBAs, and Master's students to engage in intellectual debates based on over 20 hours of readings, videos, cases, and lectures. The event was organized and run entirely by the Ivey FinTech Club, under the leadership of Eric Bujold (HBA2017) and Alex Wu (HBA2018).