2016 marked the Scotiabank Digital Banking Lab's first year as the title sponsor of Hack Western, and we were very excited by this idea! The Scotiabank Digital Banking Lab at Ivey Business School offered three workshops on UX design and blockchain technology, provided mentorship to teams of hackers with the help of expert Scotiabankers from the Digital Factory in Toronto, and sponsored a themed-track on FinTech during Hack Western with prizes for the winning teams.
At many levels, the event was a huge success. With more than 1,700 applicants from 143 schools, and 500+ hackers selected to participate in teams of four, we ended up with 92 projects submitted at the end of the weekend, including 48 in the FinTech, Blockchain, and Design prize categories sponsored by The Lab.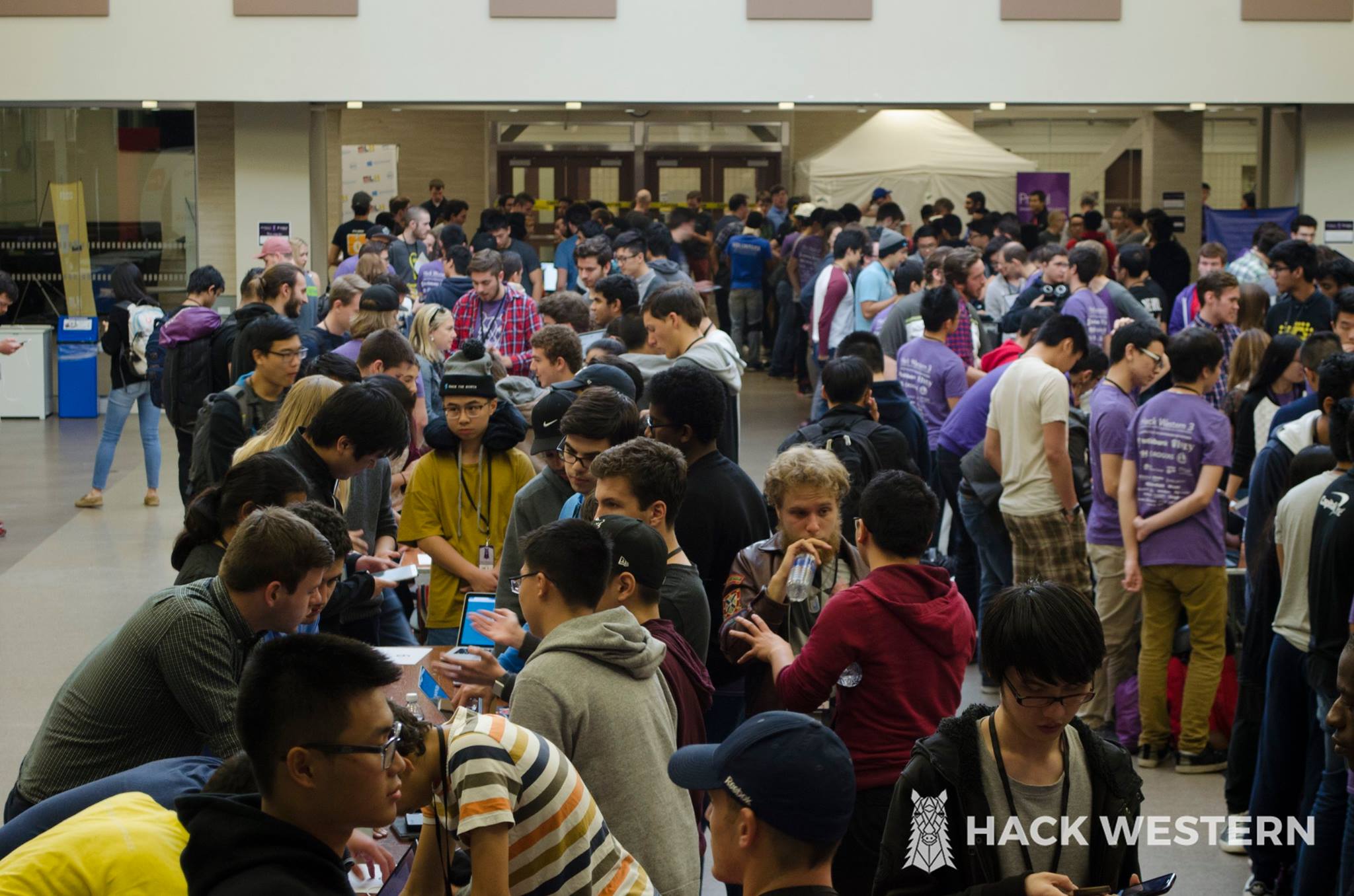 The hackers showcased their impressive talent , but they also learned a lot over the course of the weekend. Some of the remarkable projects that were submitted to the judges included an online peer-to-peer pawn shop that relies on the Ethereum blockchain to track both the ownership of the collaterals and the repayment of the lenders.
The event was followed massively on online channels (Facebook, Twitter, Slack), and we estimate reaching 100,000 social media impressions for this event.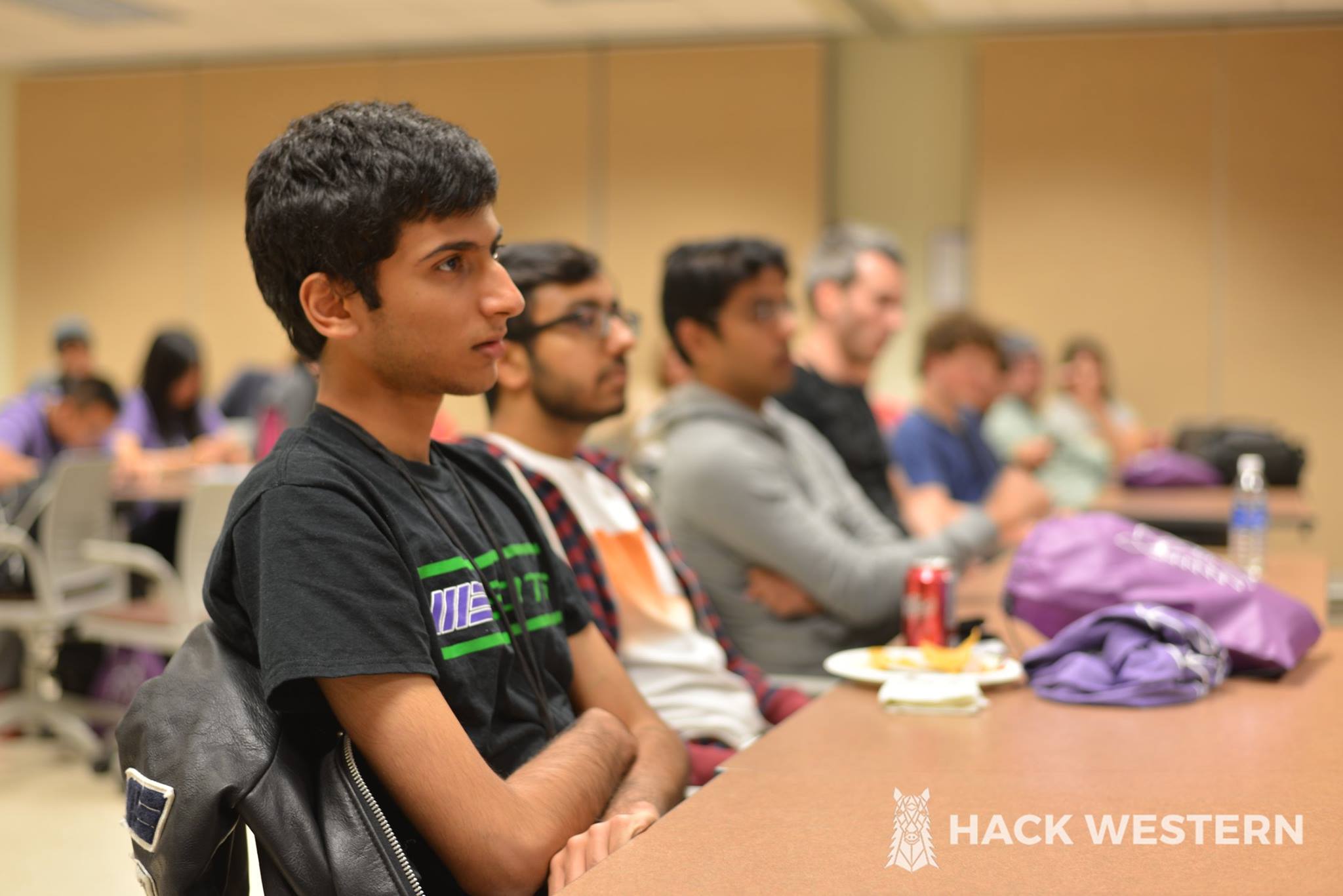 Sponsors for this event included:
Scotiabank
Ivey Business School
MLH - Major League Hacking
Digital Boundary Group
London Life
Media Sonar
Namecheap
General Dynamics Land Systems-Canada
For additional information on Hack Western, please visit their site: https://hackwestern.com
We look forward to working again with hackers in the future to foster creative thinking – and creative making – about the future of FinTech. Long live blockchain hacks!
2016 Winners
Best FinTech Hack, presented by the Scotiabank Digital Banking Lab (15 submissions): ARNance, an augmented reality dashboard of financial information displayed over company logos.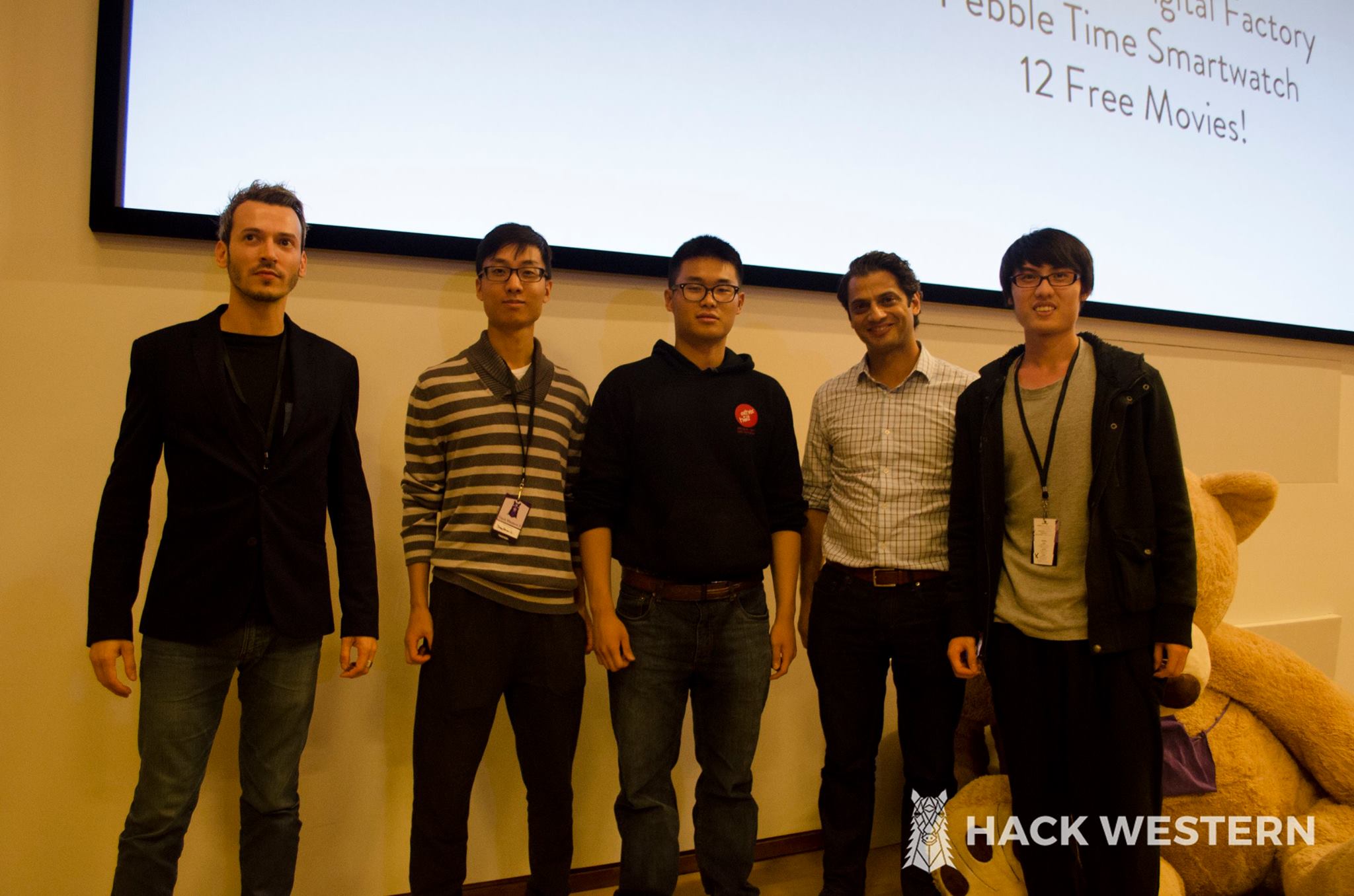 Shown above with Prof. JP Vergne (Ivey) and Henry Kesisyan (Scotiabank Digital Factory): Jeremy Chen, Michael Ding, Jonathan Lee (students from various universities) - team member Tomiwa Ademidun is absent from picture 
Best Use of Blockchain, presented by the Scotiabank Digital Factory (3 submissions): P2Secure, platform for secure holding of collateral when borrowing and lending.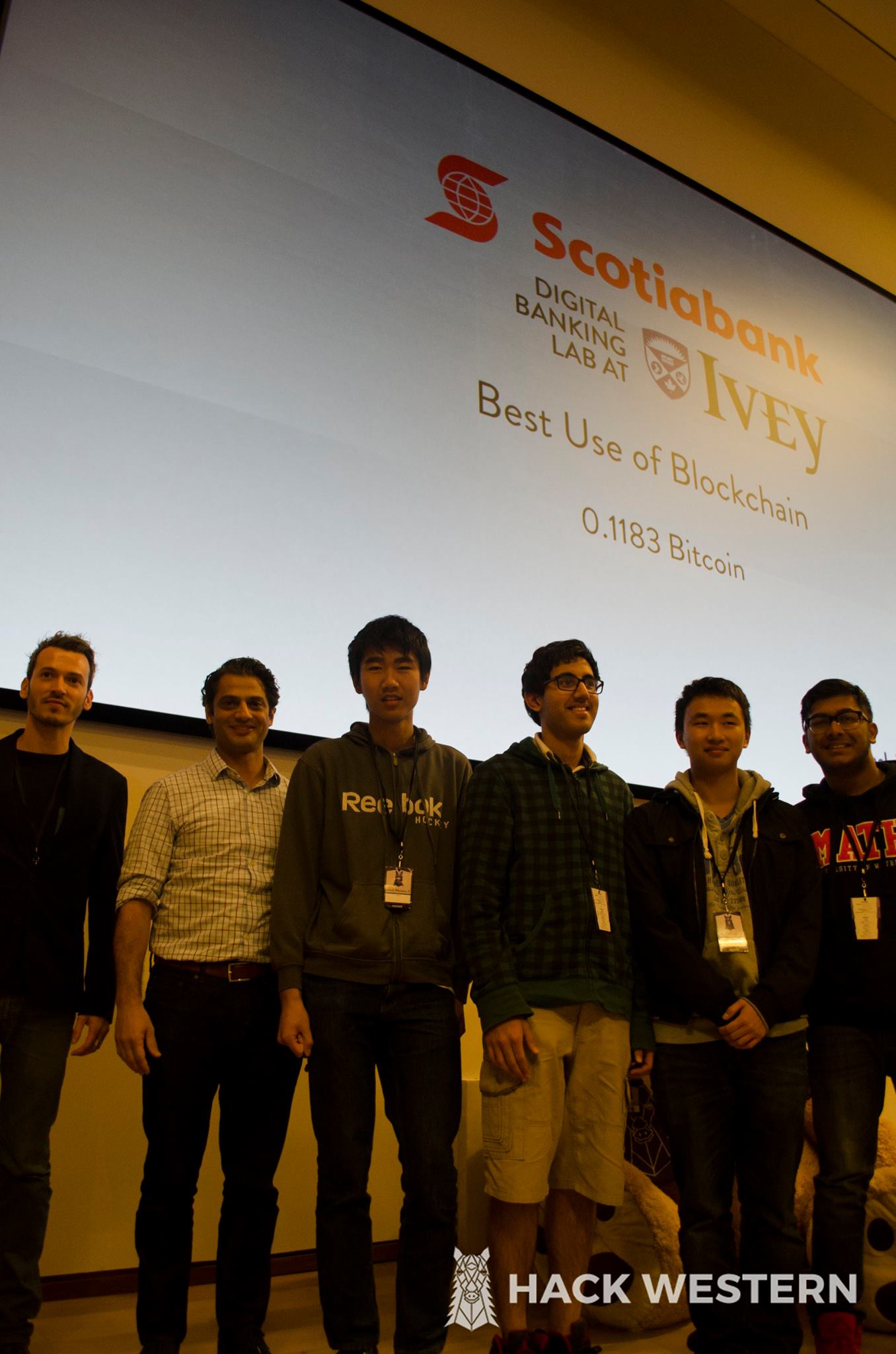 Shown above with Prof. JP Vergne (Ivey) and Henry Kesisyan (Scotiabank Digital Factory): Arthur Guo, Vaibhav Khaitan, Harman Singh, Haoyang Zhu (University of Waterloo)
Best Design, presented by the Scotiabank Digital Factory (42 submissions): LIVEstock, QR codes for farmers to track and monitor livestock.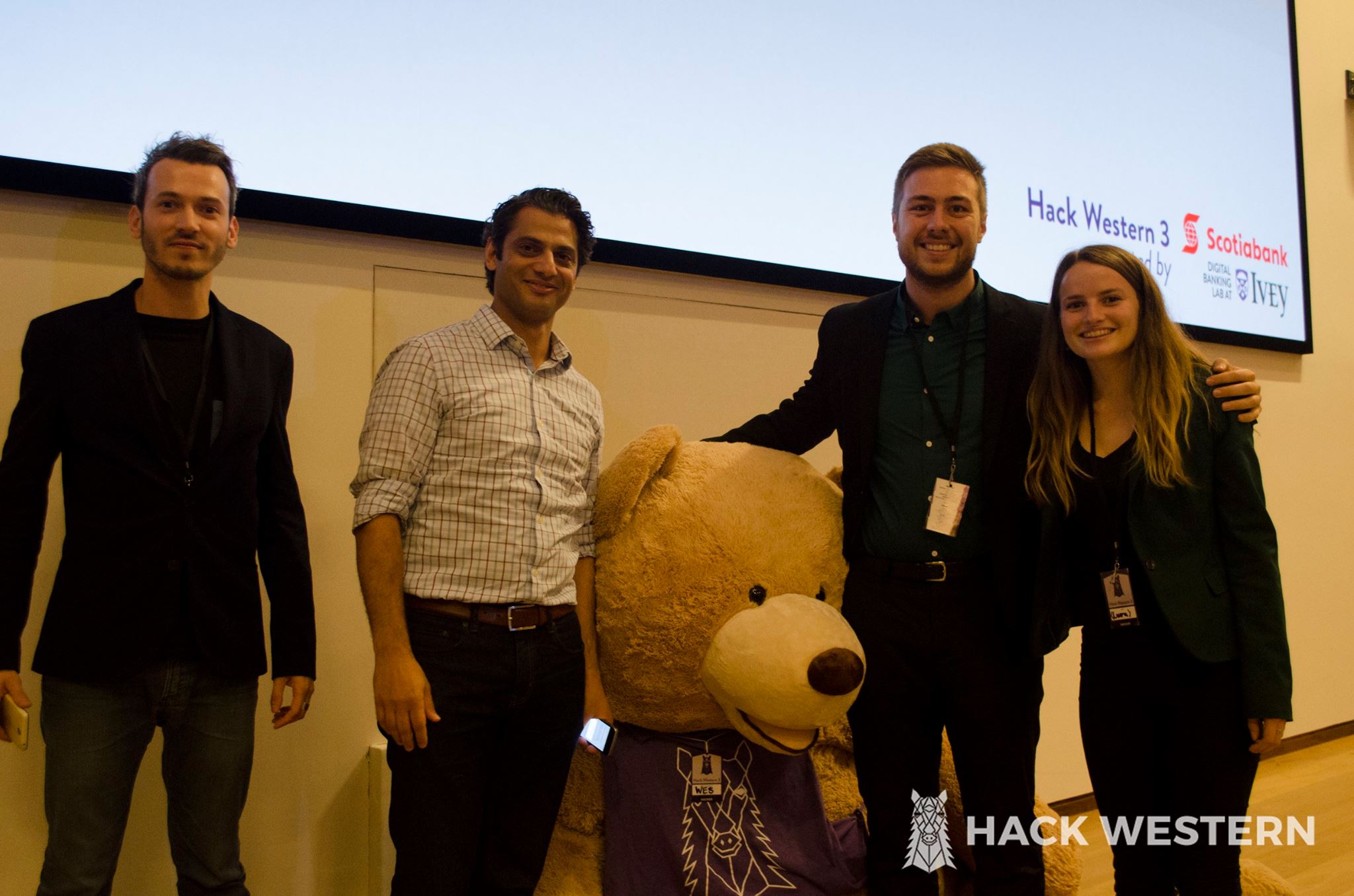 Shown above with Prof. JP Vergne (Ivey) and Henry Kesisyan (Scotiabank Digital Factory): Dexter Fichuk, Laura Mann (Trent University)
Quotes
A word from Prof. JP Vergne, Co-Director, Scotiabank Digital Banking Lab: 
"As someone who has studied and published a book about hacker communities, I was so proud and excited to be able to support the event as part of The Lab! We felt so lucky to be collaborating with bright, committed students from all over the place, who value learning and innovation with a DIY ethos. The event demonstrated what hacking really is about: creatively repurposing existing social and technological arrangements to unleash a new potential that can move society forward – not only its economy but also the social norms in which it is embedded."
Monique Tuin, Co-Director, Hack Western 3:
"I was really proud to see the excitement, enthusiasm and creativity of hackers at Hack Western 3. It was great to see hackers embracing the theme of learning, and to witness so many first time hackers demoing their projects after 36 hours. The support of the Digital Banking Lab allowed many students who were entirely new to FinTech to not only learn a great dealt, but also apply it to build some pretty cool projects!"
About Hack Western
Hack Western is an annual, student-run hackathon at Western University.  Students collaborate in teams of up to 4 to build web, mobile and hardware projects, while participating in workshops, learning from mentors and competing for prizes. Support from the Digital Banking Lab provides hackathon participants with the opportunity to explore digital disruption in the financial services industry, and delve deeper into topics ranging from user-centered design to cryptocurrencies.
Hack Western 4 will take place in the fall of 2017.  The dates for next year's competition will be announced shortly.
For more information, or to register, please visit our partner's website: https://hackwestern.com