FinTech's Impact on Wealth Management
by Jessica Lomazzo

IFP Executive Summary
The following presentation is an extract of my Ivey Field Project deliverable for the Ivey Scotiabank Digital Banking Lab. Note that I am a fourth year student at the Ivey Business School with no prior research or experience on this topic or in the space – I do not claim to be an expert, merely an enthusiast.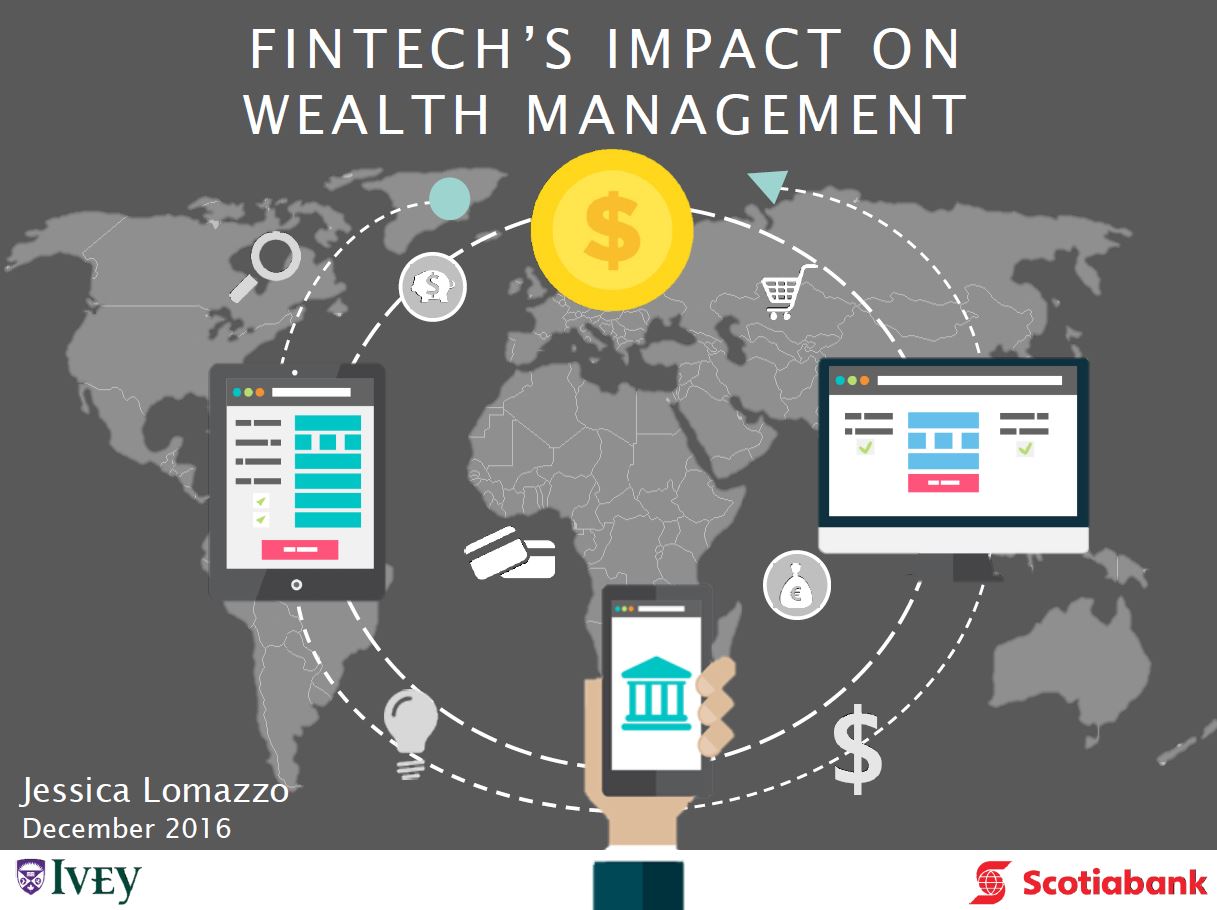 The project's purpose was to understand the current state of the MFDA wealth management space in Canada and what it may look like in the future given the introduction of new technologies. Process flows and value chains were analyzed to understand areas that were unusually sensitive to innovation and/or disruption and to predict how they may develop over time.
New fintech solutions are shedding light on the inefficiencies in the current wealth management industry. Innovative and disruptive technologies will result in drastic changes – the impacts will be visible within the next few years.
Current wealth management processes are inefficient, costly and ultimately ripe for disruption. Advisor value has moved from their ability to provide products and advice to their ability to provide a more holistic view. The hype around robo-advisors is merely that – hype. Robo-advisors in their current state lack disruptive sophistication. However, when robo functionality is combined with that of blockchain and artificial intelligence in the future, their combined efforts could remove the need for an advisor for the majority of clients.
Compliance, reporting and onboarding are the three areas most likely to experience change within the next three years. Behavioural economics and high impact wealth management applications are low-cost, high impact solutions that can be easily adopted in the space for both new and traditional players. The strategy, structures and cultural differences between fintechs and traditional players will create barriers to straightforward relationships; additional research on this topic is recommended.
View the full presentation here.