Scotiabank Digital Banking Lab
Second Toronto FinTech Conference
Andrew Sarta, PhD Candidate in Strategy, Chair of the Second Toronto FinTech Conference Organizing Committee
|
Mar 25, 2019
The Second Toronto FinTech Conference took place from March 14-15, 2019, with scholars of the FinTech community feeling excited, engaged, and motivated. Building upon the success of the 2017 Toronto FinTech Conference, the event attracted 90 submissions from some of the world's leading universities in the fields of finance, economics, strategy, entrepreneurship, information systems, accounting, and law. In total, 41 papers were presented in 11 sub-tracks that covered a vast array of FinTech topics, including peer-to-peer dynamics, the emergence of cryptoeconomics incentives, firm response to the diffusion of technologies such as blockchain and AI, and the evolution of market infrastructure. Scholars from 48 universities were represented creating a unique multidisciplinary forum.
The event was kicked off by two keynote speakers: Kristal Au-Yong, Senior Vice President & Global Head, Fintech Partnerships at Scotiabank, challenged our academic community with a series of bold ideas and suggestions coming from the perspective of a large, high-reputation incumbent firm established almost 200 years ago; and Cato Pastoll, Co-Founder and CEO of marketplace lender Lending Loop, who provided a thought-provoking start-up's perspective on the changing competitive and regulatory landscape in the financial sector.  Both talks set the ground for a conference full of engaging academic conversations.
Kristal Au-Yong (left) and Cato Pastoll (right) address the Toronto FinTech Conference
The quality of submissions was reflected in each of the sub-tracks and exemplified by the award winning papers.

Winner of the Best Conference Paper Award
The Real Effects of Financial Technology: Marketplace Lending and Personal Bankruptcy
Piotr Danisewicz, University of Bristol
Ilaf Elard, Shanghai University of International Business & Economics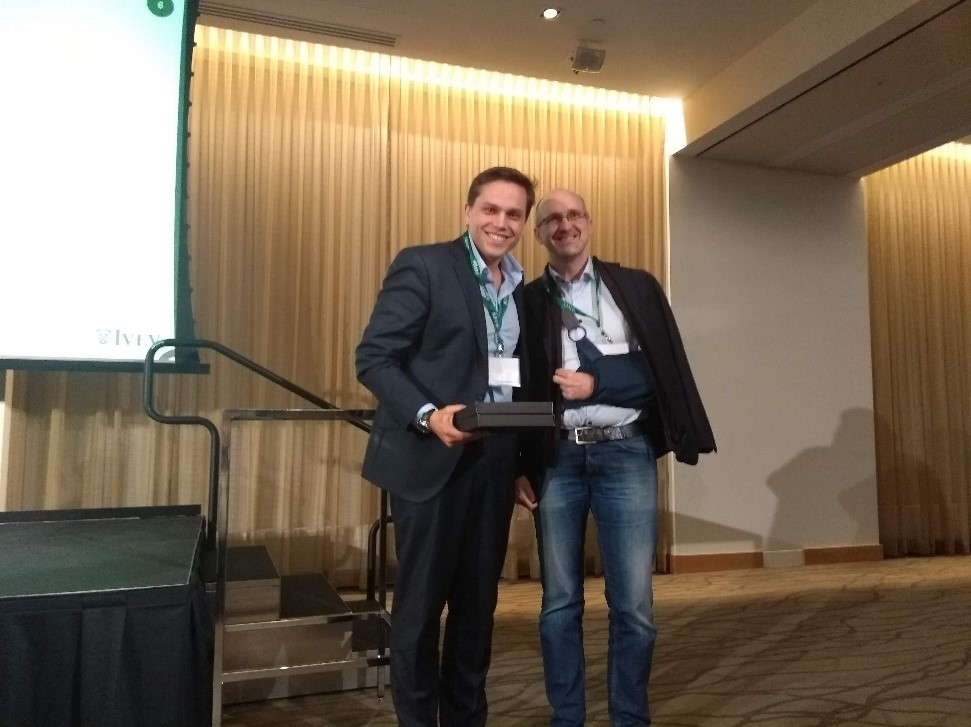 Piotr Danisewicz and Andreas Park (Program Committee) during the awards presentation

The two runner-ups to the Best Conference Paper Award
Flight to Bitcoin
Gloria Yu, Singapore Management University
Jinyuan Zhang, INSEAD
Equilibrium Bitcoin Pricing
Bruno Biais, HEC Paris
Christophe Bisière, Toulouse School of Economics
Matthieu Bouvard, McGill University
Catherine Casamatta, Toulouse School of Economics
Albert Menkveld, Vrije Universiteit Amsterdam


Additionally, five Best Doctoral Paper Awards were granted to:
Angels in the Crowd: Evidence from Online Equity Crowdfunding
Jingyu Zhang, Imperial College Business School
Wanxin Wang, Imperial College Business School
The Economics of Digital Token Cross-Listings
Hugo Benedetti, Boston College
Financing under Demand Uncertainty
Christoph Scheuch, Vienna University of Economics and Business
Bitcoin Mining Arms Race: R&D with Spillovers
Humoud Alsabah, Columbia University
Agostino Capponi, Columbia University
Alternative Facts in Peer-to-Peer Loans? Borrower Misreporting Dynamics and Implications
Vesa Pursiainen, Imperial College London & University of Hong Kong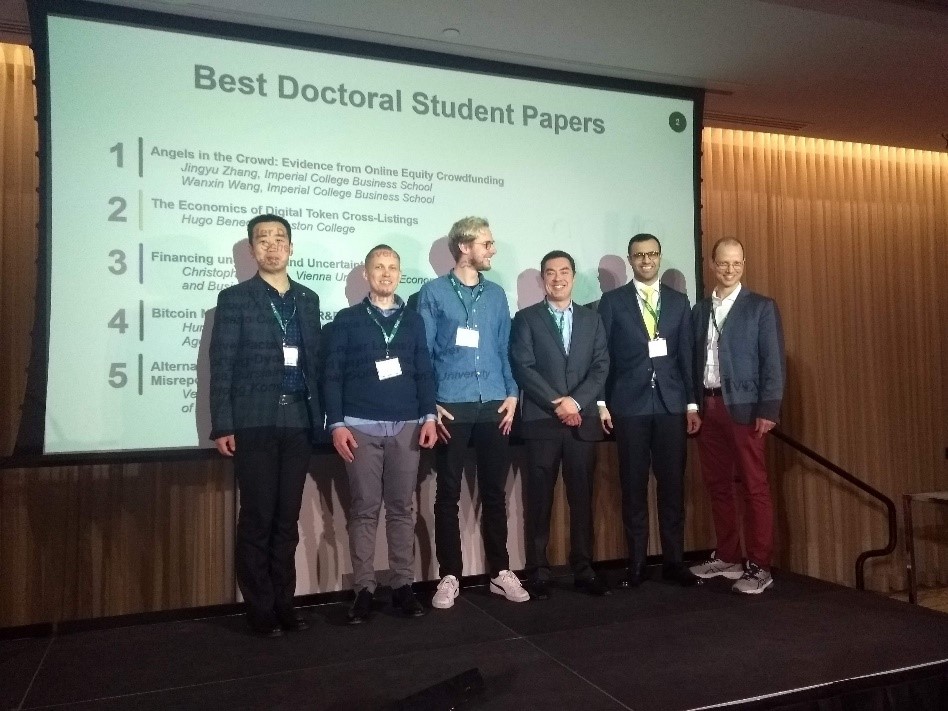 And the conference participants were surprised with an award for the Best Cryptoeconomics Paper, sponsored by the Ivey Cryptoeconomics Lab and its primary donor Ryan Zurrer. The award was presented by Qiao Wang, Director of Product at Messari.

Winner of the Best Cryptoeconomics Paper Award
Bitcoin as Decentralized Money
Emiliano Pagnotta, Imperial College Business School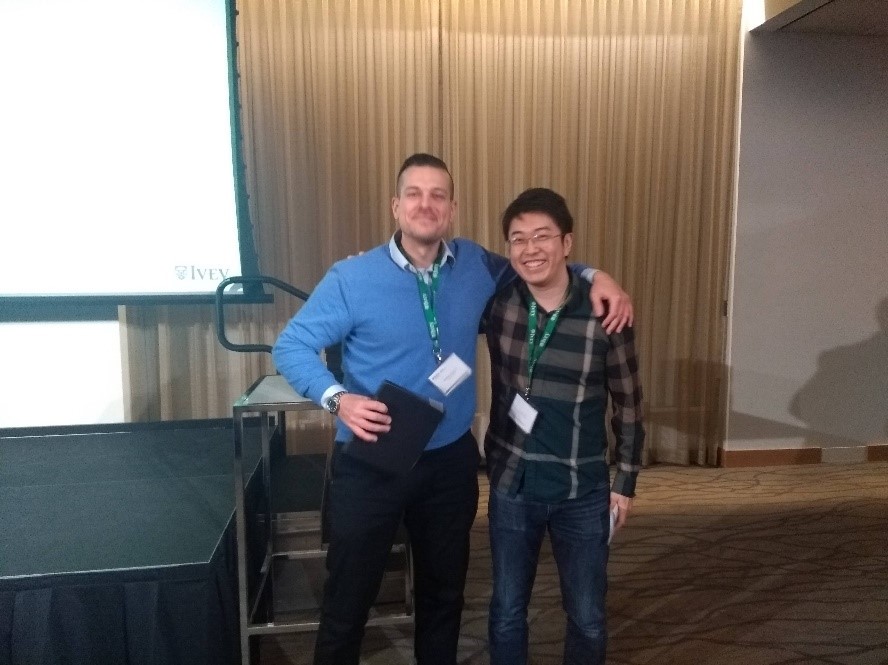 Emiliano Pagnotta and Qiao Wang during the awards presentation

The runner-up to the Best Cryptoeconomics Paper Award
A Theory of ICOs: Diversification, Agency, and Information Asymmetry
Evgeny Lyandres, Boston University

The enthusiasm and intellectual exchanges that took place have built a strong foundation on which future discussions of FinTech can rest. We are encouraged by the connections that were made, both within the scholarly community and between scholars and industry, and hope that these conversations continue in earnest. The Third Toronto FinTech Conference is expected to take place in November 2020 (dates TBA). We look forward to continuing the conversation and growing deepened interests in the FinTech academic community.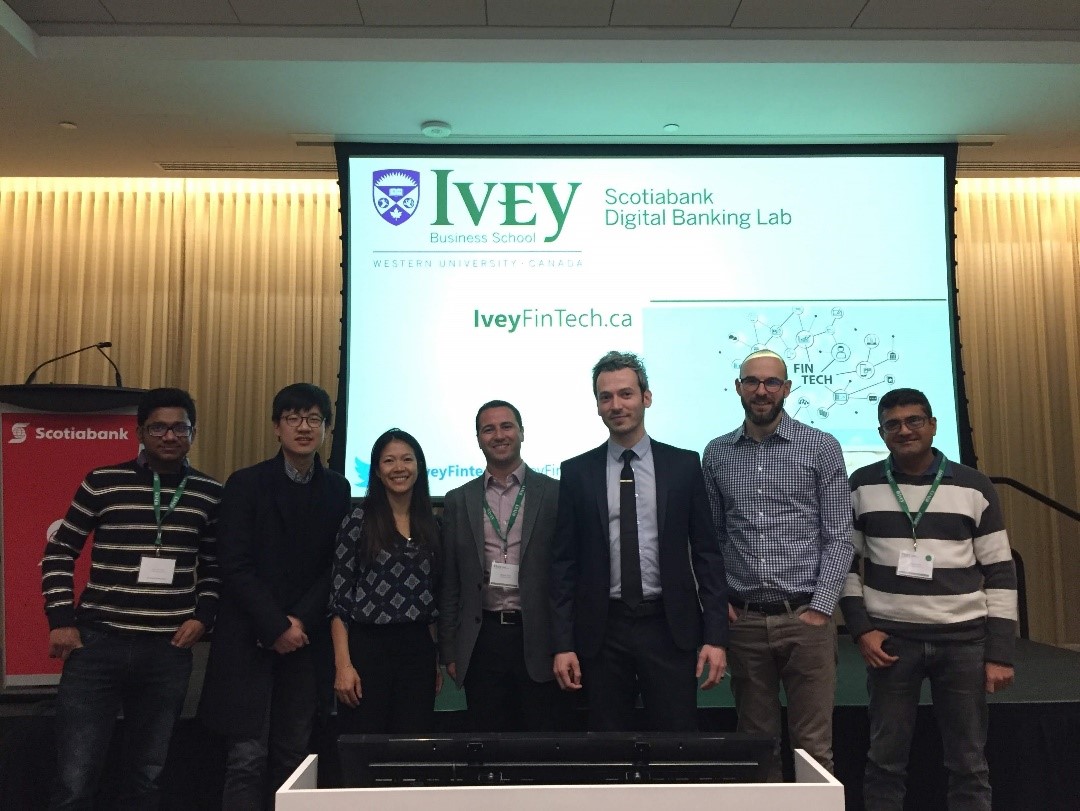 Representatives of Scotiabank Digital Banking Lab at Ivey Business School from left to right: Nuruddin Ahmed, Jungsoo Ahn, Kristal Au-Yong, Andrew Sarta, Jean-Philippe Vergne, Markos Zachariadis, and Mayur Joshi
We would like to acknowledge the generous support and remarkable commitment of Scotiabank, as well as the hard work of our Program Committee (Hanna Halaburda, NYU/Bank of Canada; Ying-Ying Hsieh & Andrei Kirilenko, Imperial College Business School; Michael King & JP Vergne, Western University's Ivey Business School; Andreas Park, Rotman School of Management) – they made this event both possible and successful!
Andrew Sarta, Chair of the Organizing Committee, PhD Candidate in Strategy