Scotiabank Digital Banking Lab
Third Toronto Fintech Conference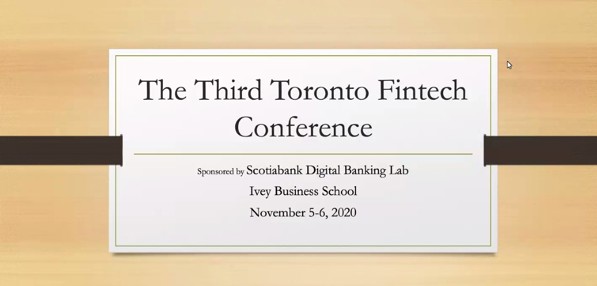 The Scotiabank Digital Banking Lab hosted the Third Toronto Fintech Conference November 5-6, 2020. This year's event was held virtually and welcomed 130 attendees.
The Toronto Fintech Conference takes place every 18 months and is an event where scholars in the fields of strategy, entrepreneurship, innovation, organization theory, finance, and economics discuss their fintech research. Academics from across the globe were invited to submit their research papers for consideration. Through a highly selective process, our judging committee chose 30 authors to present at the conference by hosting interactive sessions involving audience Q&A. The conference was divided into three tracks, each of which included several sub-tracks. The discussions were fulsome and dynamic, and the quality of the presentations was exceptional.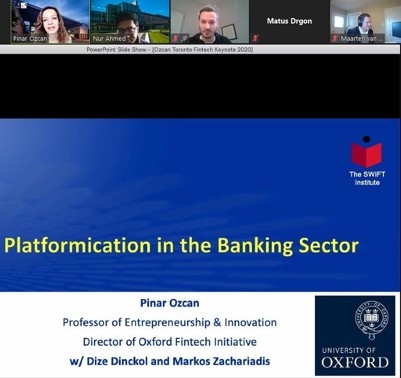 Pinar Ozcan, Professor of Entrepreneurship and Innovation, Saïd Business School at Oxford University, set the tone for the event with an opening keynote.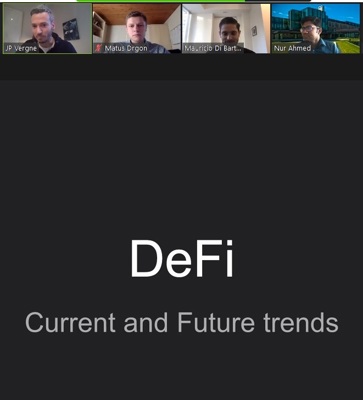 Mauricio Di Bartolomeo, Co-founder and CSO at Ledn, shared his expertise to kick off the second day of the conference.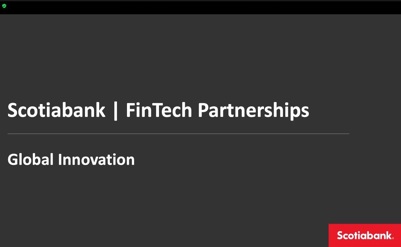 Carmen Sequeira, Director of Innovation at Scotiabank delivered the closing industry keynote.

Awards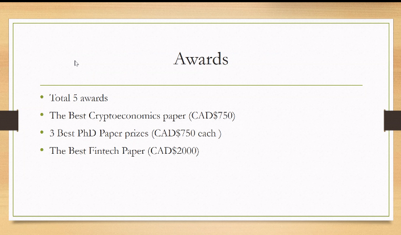 Winner of the Best Conference Paper Award:
The colour of finance words
Diego Garcia, University of Colorado Boulder
Xiaowen Hu, University of Colorado Boulder
Maximilian Rohrer, Norwegian School of Economics


Three Best PhD Paper Awards were granted to:
Implications of Priority Access in Markets with Experts: Evidence from Online Marketplace Lending
Anparasan Mahalingam, Purdue University
Mohammed Alyakoob, Marshall School of Business, University of Southern California
Data Science to Study Data Science: Inter-Fields Cultural Dynamics at the Early Moments of an Emergent Field
Rodrigo Valadao, University of Alberta
AI-driven Start-ups in Fintech: Market Entry and Business Model Evolution in the UK
Dize Dinckol, Warwick Business School
Pinar Ozcan, University of Oxford

The Best Cryptoeconomics Paper award was won by:
Why Fixed Costs Matter for Proof-of-Work Based Cryptocurrencies
Maarten van Oordt, Bank of Canada
Rodney J. Garratt, University of California Santa Barbara
Thank you to Maarten and Rodney, who have generously donated their award to the Ottawa Food Bank!

Thank you, also, to Nur Ahmed, Chair of the Conference Organizing Committee.
We look forward to seeing you at the Fourth Toronto Fintech Conference in 2022!