Could we ever know each other...? (2013)
Second floor, located in the southeast corridor.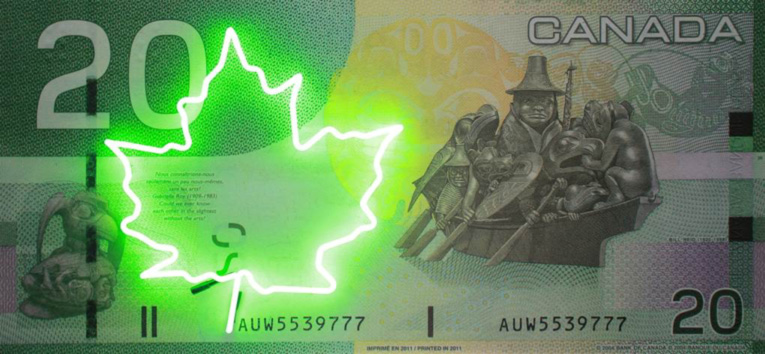 ARTIST
Jamelie Hassan
colour photograph mounted on Masonite and recycled neon & electrical
39" x 84" x 5"
EXHIBITION HISTORY
Resistance - And Then, We Built New Forms
Manif d'Art 7, Biennial of Quebec City
(2 May - 2 June 2014)
Could we ever know each other...?
Robert Langen Art Gallery, Wilfrid Laurier University, Waterloo
(18 September - 26 October 2013)
This mixed media work presents a greatly enlarged reproduction of an authentic Canadian twenty-dollar bill upon which a found leaf-shaped neon form is positioned.
Exhibition Information
Issues surrounding human rights, political conflict and cultural displacement have been a driving force throughout Hassan's art practice. Could we ever know each other....? continues to explore these issues and challenges viewers to re-evaluate their perceptions of cultural histories and the importance of civic responsibility. Selected works in this exhibition intricately intertwine ongoing and immediate global concerns with the artist's commitments to create a deeper meaning of these issues within contemporary society and our environment.
Exhibition information courtesy of Robert Langen Art Gallery
Biography
Born in London, Ontario, on September 1, 1948, Jamelie Hassan lives and works in London, Ontario.
Political conflict, social activism and cultural displacement are some of the themes woven through the work of Jamelie Hassan. Whether using watercolour, photography, ceramics or installation, Hassan heightens awareness of one's sense of geographic, societal and political location, while also suggesting the fragility, tenuousness or relativity of any such sense. Early watercolours reproduce rejection letters relatives received from Canadian immigration officials. Later, during the first Gulf War, Hassan made a billboard of a photo of she had taken in Iraq in the late 1970s, adding the text "Because… there was and there wasn't a city of Baghdad." Born to Lebanese immigrant parents in London, Ontario, Hassan studied art in Rome, Beirut and Windsor. Though grounded in the regionally focused London art scene of the 1960s—and having co-founded key area art centres Forest City Gallery and Embassy Cultural Centre—Hassan's perspective has also been shaped by lifelong international travel. A recipient of Governor General's Award, Hassan has been collected by the National Gallery of Canada and the Art Gallery of Ontario, among other institutions.
Biography courtesy of canadianart.ca