Double (2011)
Third floor, located in the Dean's Suite waiting area.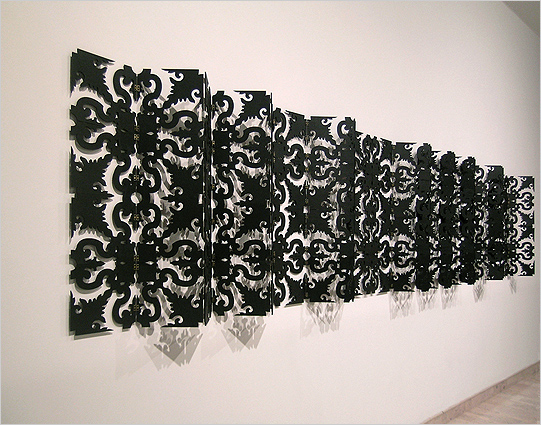 ARTIST
Jeannie Thib
laser cut veneered wood, paint, metal hinges
36" x 165" x 7"
EXHIBITION HISTORY
Paper Doll
Owens Art Gallery, Mount Allison University, Sackville, NB
(16 September - 6 November 2011)
"Double incorporates silhouette, repetition, cutting and folding in a wall installation comprised of eighty-eight identical hinged elements. The ornamental pattern of these square units is based on the design of a multi-coloured baroque wall tile. This work, created for the exhibition Paper Doll, was partially inspired by chains of identical cut paper dolls made from folded lengths of paper. The wood and the hinges, which serve to emphasize the mechanics of folding, move the piece away from the delicacy of paper into the realm of built structures. Double refers to the repeat in modernist modular constructions and in historic ornament - it engages with the idea of the copy and the meaning and impact of repetition." - Jeannie Thib
Exhibition Information
Paper Doll takes as its point of departure a little known archival collection of hand-made paper dolls and doll clothes by the poet Sylvia Plath that reveal her early skills as a visual artist and designer. Although historically regarded as ephemera, the paper doll operates within the feminine narratives of domesticity, fashion and celebrity culture. The exhibition provides a space for the interplay between the Plath material and the work of seven contemporary artists. Curated by Anne Koval the show includes an early short film by Cindy Sherman, a new immersive installation by Ed Pien, exquisite miniatures by Cybèle Young, large scale steel-cut dresses by Barb Hunt, the colourful embroideries of Anna Torma, an installation of cutouts by Jeannie Thib and the ephemeral paper doll chains of Lynne Yamamoto. Much of the artwork conceptualizes the interiority of child's play as a fantasy world remembered, recreated and transformed. The themes of childhood, the cutout and visual perception are given new materiality and meaning by the artists in this exhibition.
Exhibition information courtesy of Owens Art Gallery
Biography
Jeannie Thib was born in North Bay, Ontario, Canada and received a BFA from York University, Toronto. She has been working as a visual artist since the 1980s, exhibiting installations, sculptures and print based works nationally and internationally. Recent solo exhibitions include B and K Projects, Copenhagen, Denmark, Museo de Arte INBA, Ciudad Juarez, Mexico and Maison Patrimoniale de Barthète, Boussan, France with group exhibitions at Object Gallery, Sydney, Australia, Long Yi Bang Gallery, Beijing, China and the Tree Museum, Canada. Her work is represented in numerous collections including The National Gallery of Canada, Musée des Beaux-Arts de Montréal, Musée dArt Contemporain de Montréal and The Washington DC Convention Center, USA. Thib has been commissioned to create permanent public artworks for the Royal Bank Centre Dexia, Toronto, the Esplanade Arts and Heritage Centre, Medicine Hat, Alberta, the City of Toronto Downsview Memorial Parkette and the Toronto Transit Commission among others. Her artist residencies include the Canada Council Paris Studio in France, Stichting Kunst and Complex in Rotterdam, The Netherlands and Megalo Print Studio in Canberra, Australia. Recent publications include Lure, a bilingual exhibition catalogue and The Map as Art published by Princeton Architectural Press and edited by Katherine Harmon.
Biography courtesy of Katzman Contemporary