The Creation of the Universe (2013)
Second floor, in the south corridor seating area at the entrance to the Program Services Staff Suite.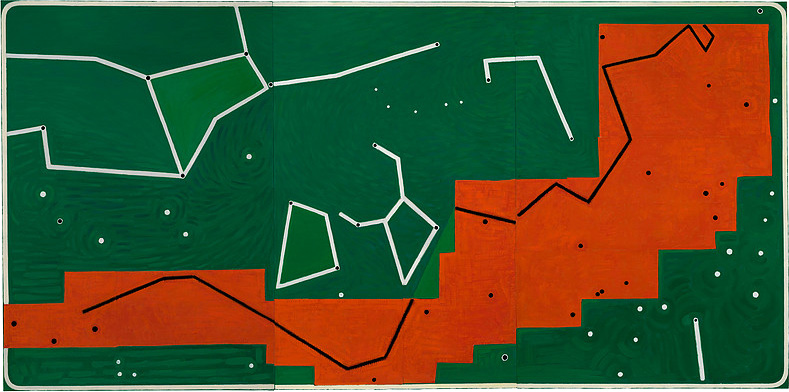 ARTIST
Maclean
oil, acrylic and polyethylene tarp on canvas
72 ½" x 146 ½"
EXHIBITION HISTORY
The Painting Project: A Snapshot of Painting in Canada
Galerie de l'UQÀM, Montreal
(1 May - 1 June 2013)
Maclean, Jacques Marchand, Martha Townsend, Mathieu Gaudet
Galerie Roger Bellemare / Galerie Christian Lambert, Montreal
(21 April - 19 May 2012)
The multi-media work composed of various layers of paint as well as polyethylene tarp presents a geographic rendering of a celestial map. This "map" is articulated on a field of green and orange by linearly connected and isolated dots of white and black paint.
Exhibition Information
The Painting Project. A Snapshot of Painting in Canada opened on April 30 at Galerie de l'UQÀM and was on display through July 6 2013. Unique for the diversity of recent works on display, the exhibition testifies to the intense activity taking place in painters' studios all across Canada. The works by 60 artists were selected after two years of research. The project also includes a virtual exhibition, which was launched in fall 2013 to give the national and international public access to a lively, prolific art scene. The project has been curated by Julie Bélisle, with Louise Déry acting as general curator.
Exhibition information courtesy of Galerie de l'UQÀM
Biography
I was born in Winnipeg in 1969 and have been drawing, painting, designing and building things for as long as I can remember. I studied these things with a number of tutors in my youth, and followed up with a bachelor of fine arts at the University of Manitoba which I completed in 1996. Later the same year I moved to Montreal, where I have lived ever since. I maintain a studio in Montreal and show regularly, thanks in large measure to ongoing representation by Galerie Roger Bellemare and Christian Lambert. My work has been exhibited across Canada as well as in France, and is now a part of numerous private and public collections, including the Musée national des beaux-arts à Québec. I live with my wife and our son in the Mile End.
Biography courtesy of macleanart.com