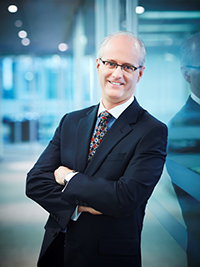 Warren retired from OMERS, a $100 billion Pension Plan serving municipal workers in Ontario, as Chief Operating Officer on December 31, 2018. In this role, Warren was the leader of Pension business responsible for over $4 billion of contributions as well as global leader of people, processes and technology that included the functional teams of Pension Services, Legal Services, Communications & Public Affairs, Technology, Project Management and Human Resources. He emphasized the creation of value across the OMERS enterprise to achieve an innovative, ambitious business strategy that included a globalization of OMERS with offices in New York, London, Sydney and Singapore
Warren joined OMERS as Executive Vice President & Chief Human Resources Officer with over 25 years of Human Resources experience in financial services. Prior to joining OMERS, Warren held several related roles including the position of Senior Vice President, Corporate Human Resources at TD Bank Group where he was responsible for Pension & Benefit Plans, Employee Engagement, Executive Compensation, HR Mergers and Acquisitions, Employee Relations, Labour Relations and Employee Compensation. He previously held the position of Managing Director and Global Head, Human Resources for TD Securities (SVP, TD Bank), a leading investment bank operating globally, headquartered in Toronto.
Warren serves as the Chair of the Bruce Trail Conservancy. He also sits on the Advisory Panel on Resolution for the Canada Deposit Insurance Corporation (CDIC), the Advisory Board of Diamonte Development Corporation and Rad Pizza Corporation. He is a Certified Director (ICD.D), Certified Human Resources Executive (CHRE), Certified Human Resources Leader (CHRL), Certified Human Resources Professional (CHRP), and Fellow of the Institute of Canadian Bankers (FICB) and holds both a Bachelor of Administration degree and an Honours Bachelor of Commerce degree from the University of Ottawa.