The past year has been one of unprecedented disruption, crisis, protest and transformation.
We saw remarkable images from around the world when people – young and old; female, male, transgender, and non-binary; Black, White, Asian, and Hispanic – filled the streets on a scale not seen since the 1960s to protest racial injustice and demand change after the killing of George Floyd.At the same time, we heard heartbreaking stories of crowded hospitals, long-term care facilities, and improvised mortuaries dealing with the COVID-19 pandemic. And touching all of us, some more deeply than others, was the economic impact of a global lockdown that disrupted business, trade, employment, and investment.
However, these (and other) events are offering us an important opportunity that should not to be squandered—to reflect on how we want to live our lives, to pivot toward a more sustainable and fair future, and how to reconsider the role of business organizations in building a better Canada. It is equally important that we examine how the practice of leadership needs to shift to meet these challenges. If the events of 2020/21 have taught us one thing, it is the importance of character as an indispensable component of good citizenship and good leadership. The LeaderShift series is an opportunity to explore how character matters—individually and collectively—and how, in this era of crisis, it is the catalyst we need to transform the practice of leadership and generate a new normal that is just, sustainable, and provides the resources and opportunities for all to flourish.
Registration is open and complimentary for all who wish to attend.
Session III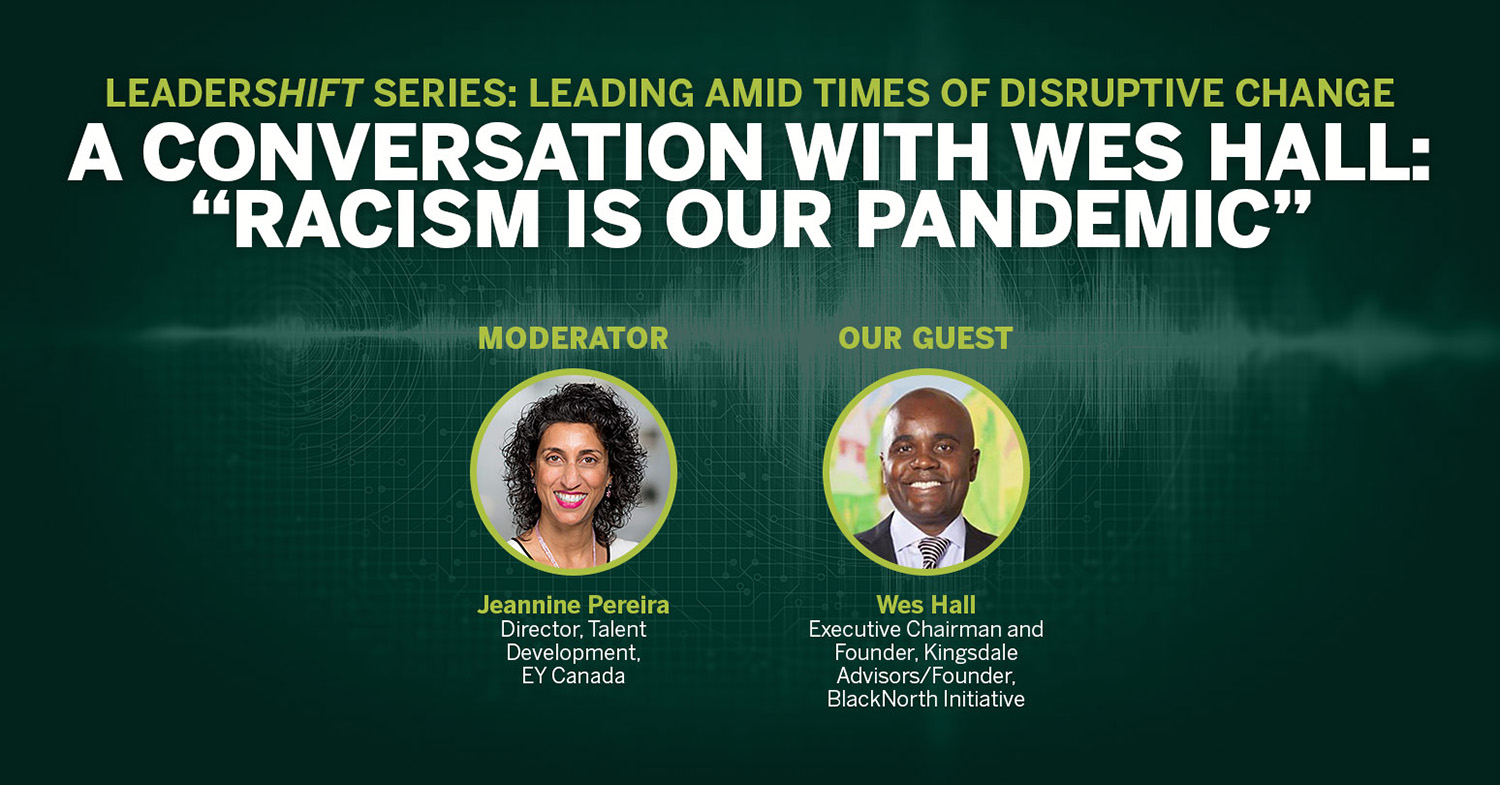 Tuesday June 15, 3:00 – 4:15 p.m.

Important conversations need to be continually held in order to maintain the momentum towards eradicating discrimination, racism, and inequality —in organizations and in our communities. Please join us for this conversation exploring if positive change is happening, the actionable steps that workplaces can implement to truly diversify their organizations, and the role of leader character in making meaningful change.
Our guests:
Wes Hall, Executive Chairman and Founder of Kingsdale Advisors and the founder of the BlackNorth Intitiative
Moderated by Jeannine Pereira, Director, Talent Development at EY Canada
Past Sessions:
Wednesday May 12, 2:00 – 3:15 p.m. EST

The COVID-19 pandemic spotlighted the need for effective leadership in the public, private and not-for-profit sectors. Please join us for a candid conversation with four exceptional health care leaders who have had to rely on their strength of character to meet a myriad of challenges, perform in their roles, and to influence others to work through the pandemic.
Our guests:
Session II
Thursday June 3, 3:00 - 4:15 p.m. EST
What role can leaders play in an uncertain and volatile post-pandemic world? Corporate and political leaders may have initially responded to the pandemic emergency as a short but deep crisis. It is now accepted that the "new normal" will take time to reveal itself. In this second session of LeaderShift, our esteemed guests will focus on how the convergence of economic, social and political volatility during the pandemic has become and will remain one of the most challenging aspects of corporate leadership. 
Our guests: