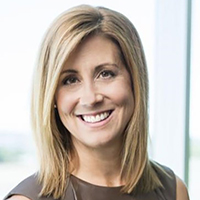 Heather Chalmers,
President and CEO, GE Healthcare Canada
Heather Chalmers is the President and Chief Executive Officer for GE Canada, and President for GE Healthcare Canada. The world's foremost Digital Industrial company, GE Canada has produced industrial solutions for over 129 years and employs thousands of Canadians across multiple sectors.
Heather Chalmers is passionately committed to leading businesses that consistently deliver Canadian innovation and outcomes to customers in Canada and globally.
As of 2018, Heather leads GE Canada as they work to serve customer needs in the Aviation, Healthcare, Power and Renewable Energy Sectors. She heads GE businesses that partner with business and government leaders to reposition the Canadian economy for the future with a focus on climate change, digital, AI and Additive Manufacturing.
Throughout her extensive 25-year career with GE, Heather has consistently developed and led high performing teams that are industry leaders in bringing innovative technology and digital solutions to solve complex challenges in both Canadian and global markets.
Heather first joined GE Plastics where she took on multiple commercial roles. In 2007 she took a leadership role at GE Healthcare and was promoted to President of the Healthcare business in 2014.
She holds a Chemical Engineering degree from Queens University, an MBA from the Rotman School of Business and is a director on the C.D. Howe Institute Board, Business Council of Canada Board, Ontario Brain Institute Board and St. Elizabeth Health Foundation Board. She is also member of the Rotman School of Management's Healthcare and Life Sciences Advisory Council and is part of the GTA United Way Cabinet and former Director of the Medtech Canada Board.