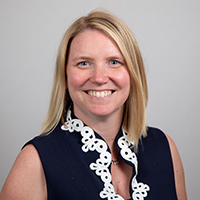 Melissa Farrell
President, St. Joseph's Healthcare Hamilton
Melissa Farrell is currently the President, St. Joseph's Healthcare Hamilton, an academic and research healthcare organization. St. Joseph's Healthcare Hamilton (SJHH) is committed to making a difference in people's lives and creating a lasting future for our community through integrated health services and internationally recognized programs. Our threefold mission is to provide dynamic research, revolutionary methods in health sciences education, and the highest standard of clinical care in a spirit of compassion, innovation and commitment. Melissa is an Assistant Professor (Part-time), Division of Education and Innovation, Department of Medicine, Faculty of Health Sciences, McMaster University.
Prior to working at St. Joseph's Hospital, Melissa had a long and distinguished career largely focused in the public sector and was most recently the Assistant Deputy Minister of the Ontario Ministry of Health and Long-Term Care's Hospitals and Emergency Services Division, leading a large and diverse team responsible for delivering on the province's funding and quality priorities in the pre-hospital, hospital, community care access, and long-term care sectors.
In addition, Melissa was at a time, the Director of the Primary Health Care Branch with the Ministry's Negotiations and Accountability Management Division, where she managed over 2,000 primary care provider contracts and supported the development of strategies to further enhance primary care services across the province.
Her abilities to deliver, transform, connect and inspire have been recognized with six ministry Achievement, Commitment and Excellence nominations and awards, and Gold and Amethyst Public Sector Leadership awards from the Institute of Public Administration of Canada.
Melissa was Co-Chair of the inaugural Hospital Advisory Committee, comprised of membership from the ministry, the Ontario Hospital Association and the Local Health Integration Networks and also has sat on the boards of MaRS EXCITE and Health Quality Ontario. She is currently a Board Member of the Ontario Hospital Association.
She holds a Bachelor of Arts (Honours) in Philosophy and a Masters in Urban and Regional Planning (with a focus on healthcare planning), both from Queen's University. Melissa has completed additional training at the Harvard Business School, Ivy Business School, Rotman School of Management and Ontario Public Service Leadership.