MSc
Team Vietnam: Two Students, Two Trips, One Location
Ivey MSc Students
|
Jun 13, 2017
While in Vietnam, both Brianna and Meklit decided to make the most of their time and use weekends to explore as much of the country as possible. The two of them both decided to escape from the city and head south to beautiful Ninh Binh, on two separate weekends. Below are the accounts of their different trips to the province.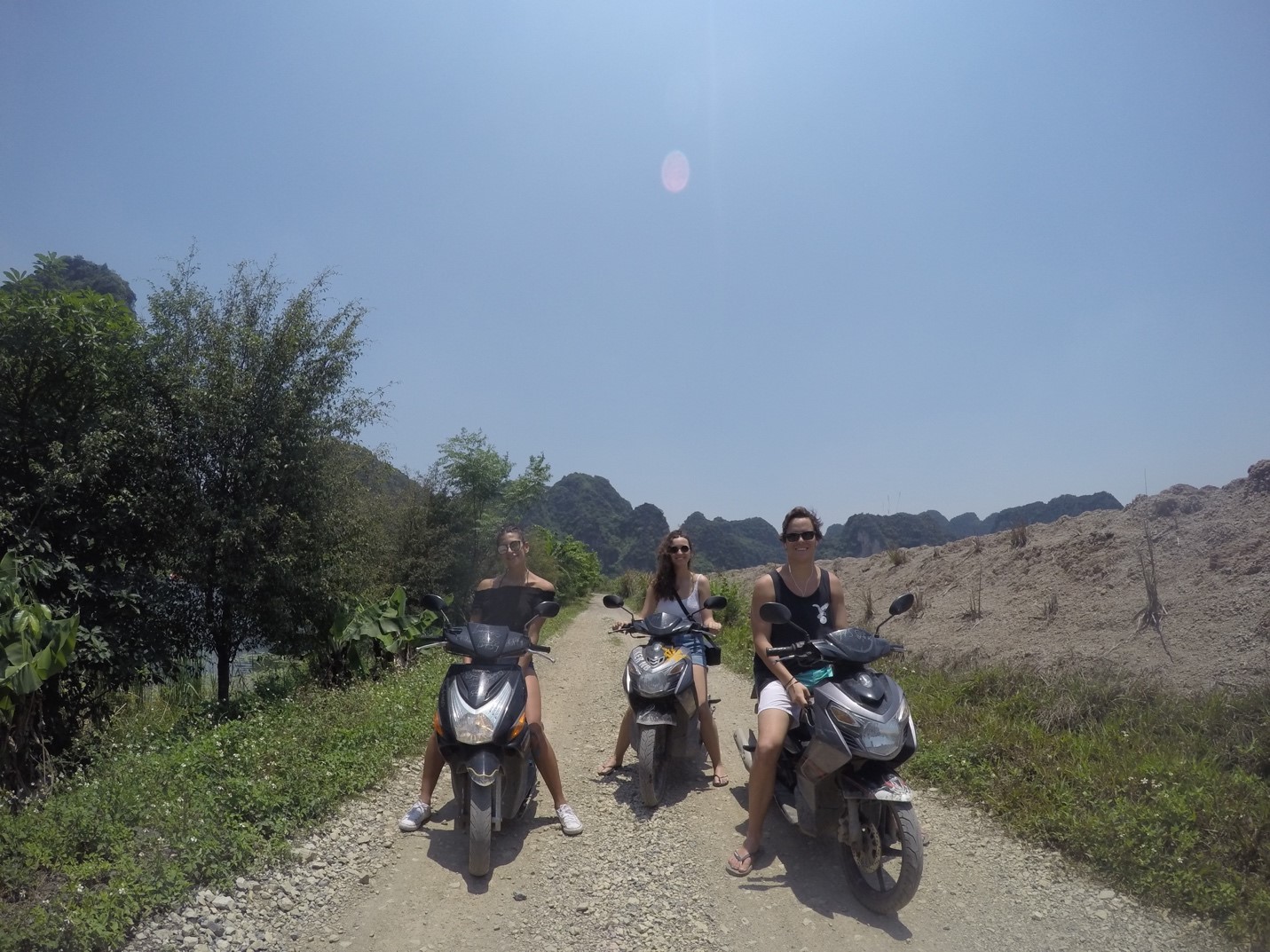 Meklit:
Getting there was truly an experience. We didn't book our bus tickets beforehand and when we arrived at the bus station, the last bus had already left for the day. We were swarmed by locals trying to sell us rides, but turned them down and take a sleeper bus. This is a bus that is filled with beds rather than chairs, but as we were some of the last people to get on the bus, we had to sit on the floor in the aisle. Once on the bus, the fare collector tried to raise the price of the ticket from what we were originally quoted, but we managed to negotiate ourselves out of it. Once settled, the locals were very friendly - they handed each of us blankets and pillows so that we would be more comfortable - and we were off.
We first decided to rent scooters to make it easier to get around and truly feel free on the open roads of Ninh Binh. This was my first time ever riding a scooter and I never really realized how heavy they are! Most who ride them makes it seem so easy and effortless. On my first try, I managed to somehow steer the bike straight into 2 tourists, missing them by only a few inches and almost crashed into the market stands. Luckily, there were people standing by to help and the only thing that walked away broken was the side mirror of the bike. Needless to say, I rode as a passenger for the rest of the trip!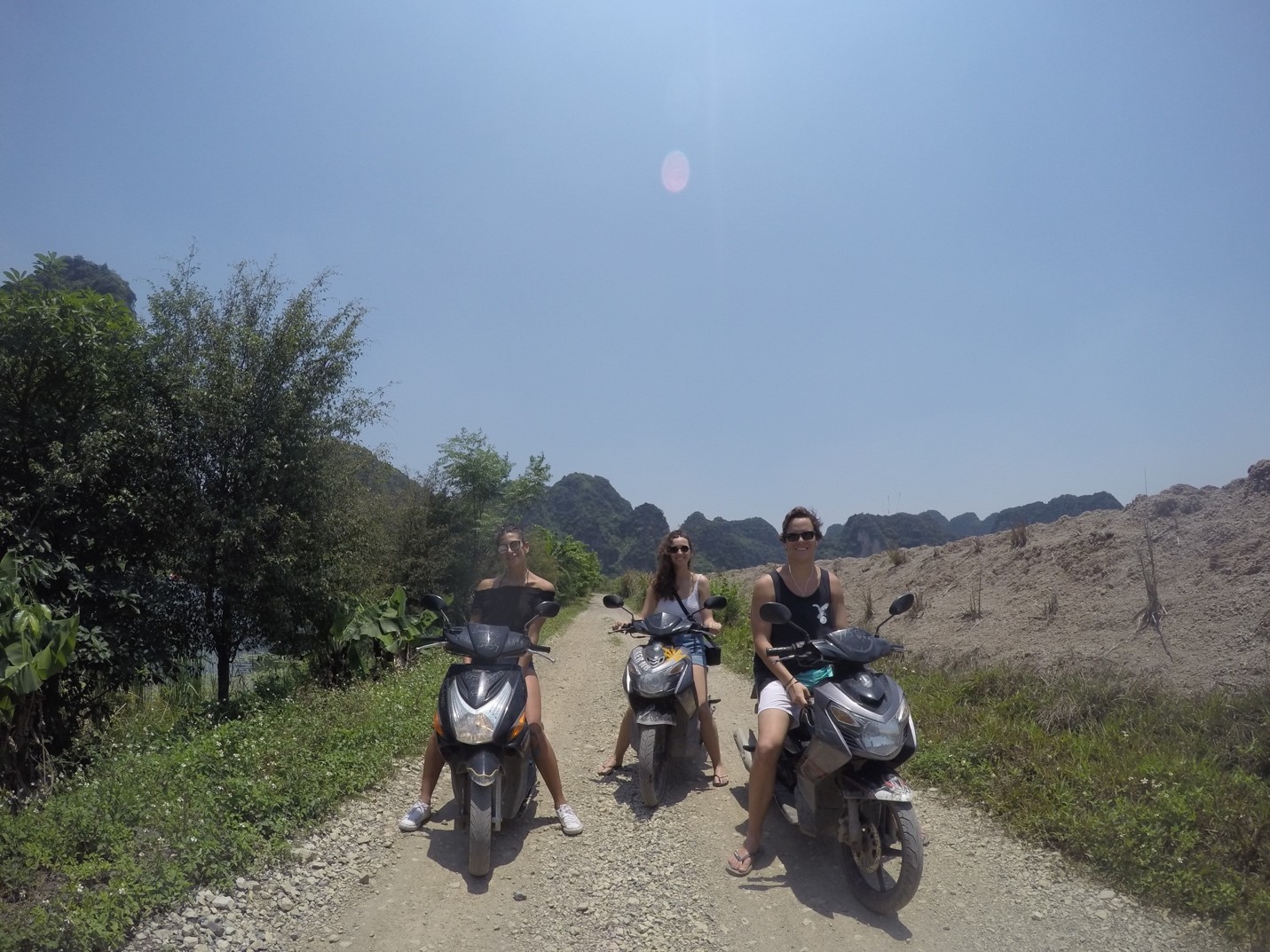 Next, we decided to go visit a cave in the Xa Ninh Hi district of Ninh Binh after a long day of exploring. We thought it would just be a quick stop to visit the cave, but after we paid for our tickets, we realized that the main draw of this attraction was the amazing viewpoint. After approximately a 25-minute steep climb, we reached the most beautiful view of Ninh Binh. To one side, all you could see were green rolling hills and mountains that stretched as far as the eye could see. We even spotted some goats perched up on a tiny ledge, wedged amongst the sprawling greenery. You could see an amazing view of the city of Ninh Binh down below, a wonderful change from the hustle and bustle of Hanoi that we have become so accustomed too. After this packed day of sightseeing and hiking, we headed home for a well-deserved break.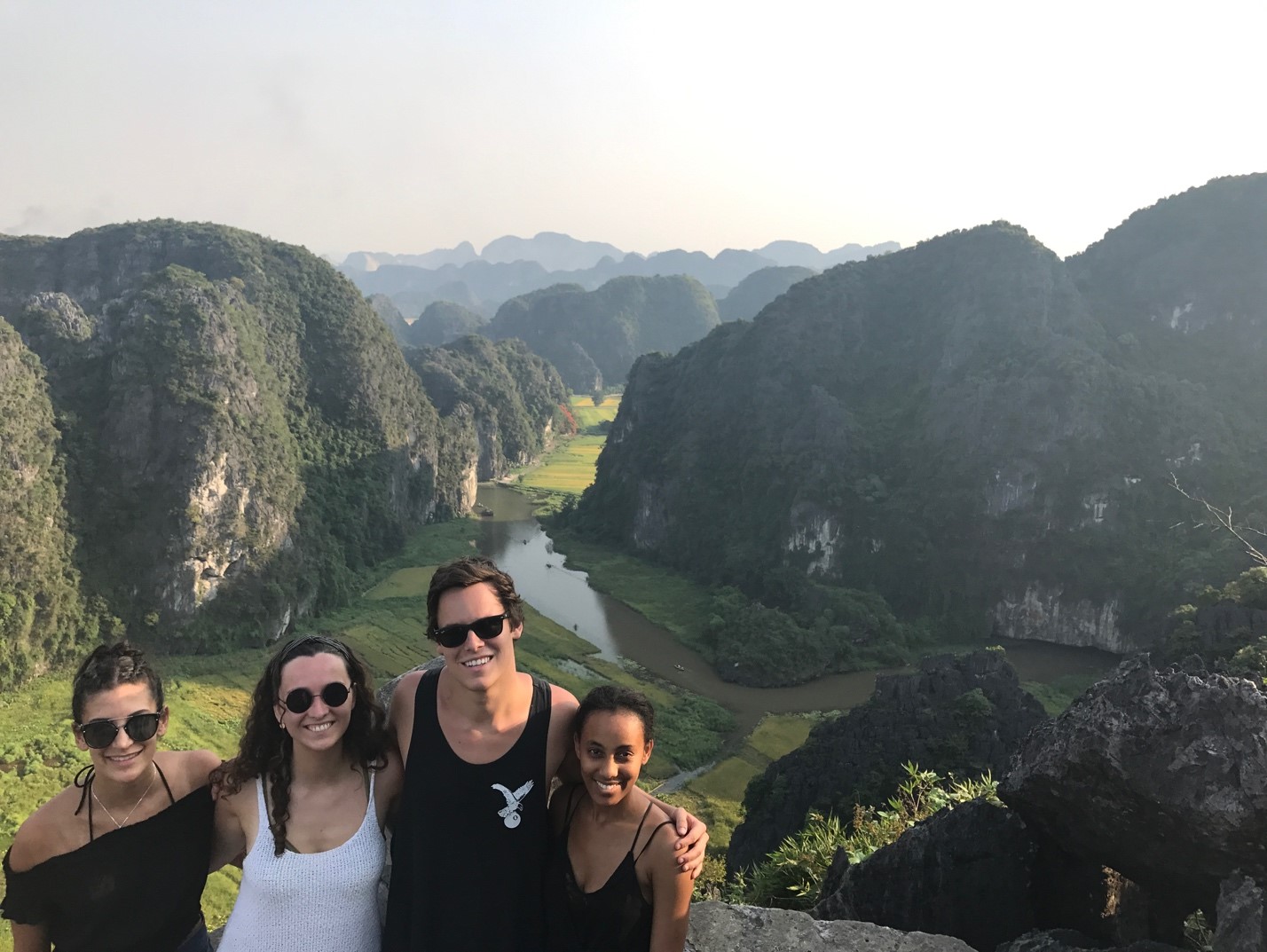 In the evening, we decided to check out the nightlife in Ninh Binh, which was more exciting than expected for being in a small town. We made our way to one of the more well-known bars in the area, where we were greeted with some loud music and local people. We also met many young backpackers from England and Switzerland who made the night a great experience. We played some pool, danced and shared our experiences traveling with one another. 
Brianna:
My ride to Ninh Binh was less adventurous than Meklit's. A boss of another IGL team offered to take them on a day trip to Ninh Binh and, as there were extra spots, I got to tag along. We left Hanoi at 7:15am and arrived approximately two hours later at Trang An.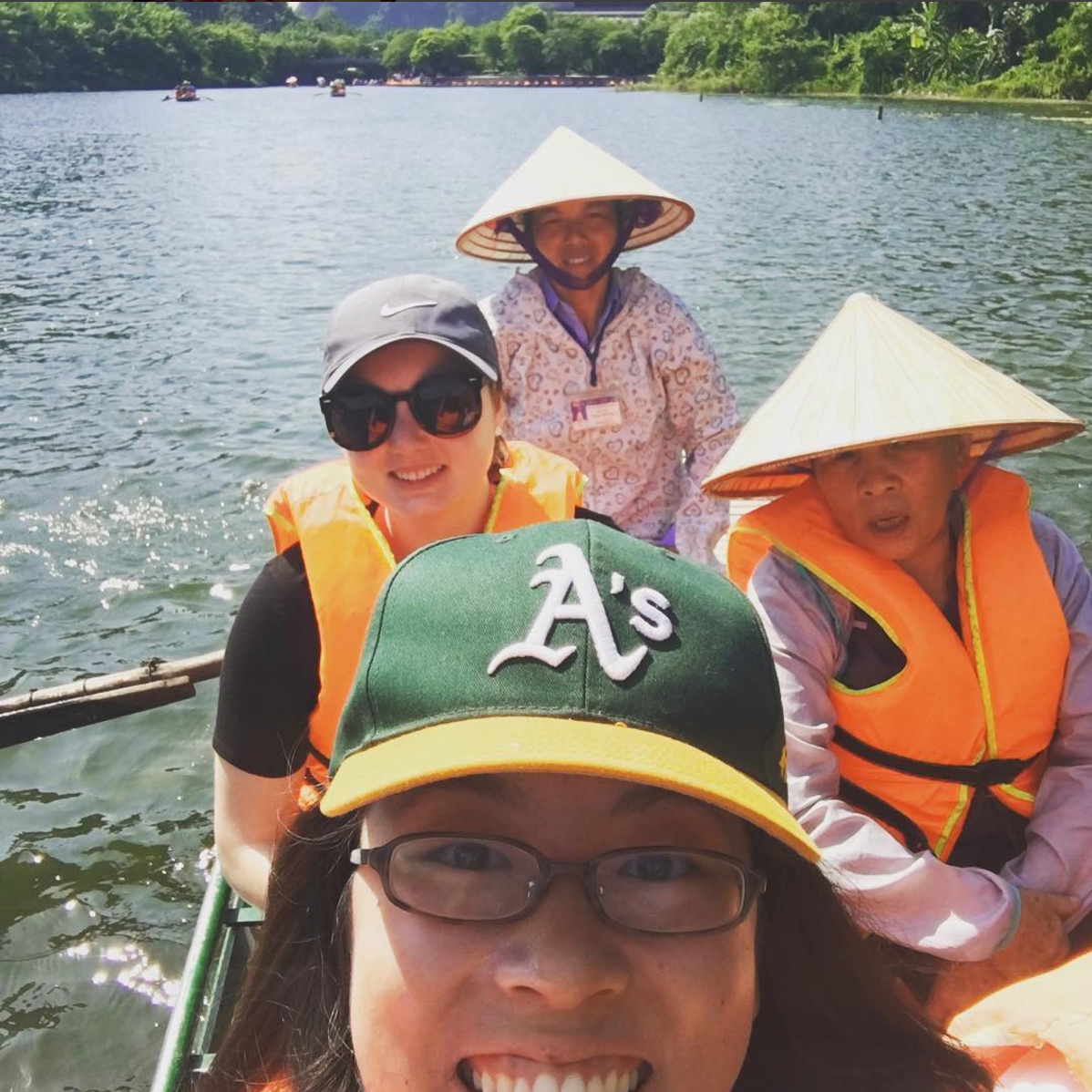 The first stop of the day was for a boat tour. The boats were small row boats that sat five people, plus the rower at the back. We hopped in and were off. This tour went through beautiful towering mountains, intermittently covered in beautiful green foliage between outcroppings of stark black and white rock, and under mountains – though caves. The first stop was at a Chinese temple that had a beautiful golden Buda that was about three stories tall. The second set was less cultural: the set of the movie Kong: Skull Island. This was neat as some of the set had been left and there were people stressed in costumes from the movie walking around. The tour took about 2.5 hours, so once it was over we headed to lunch.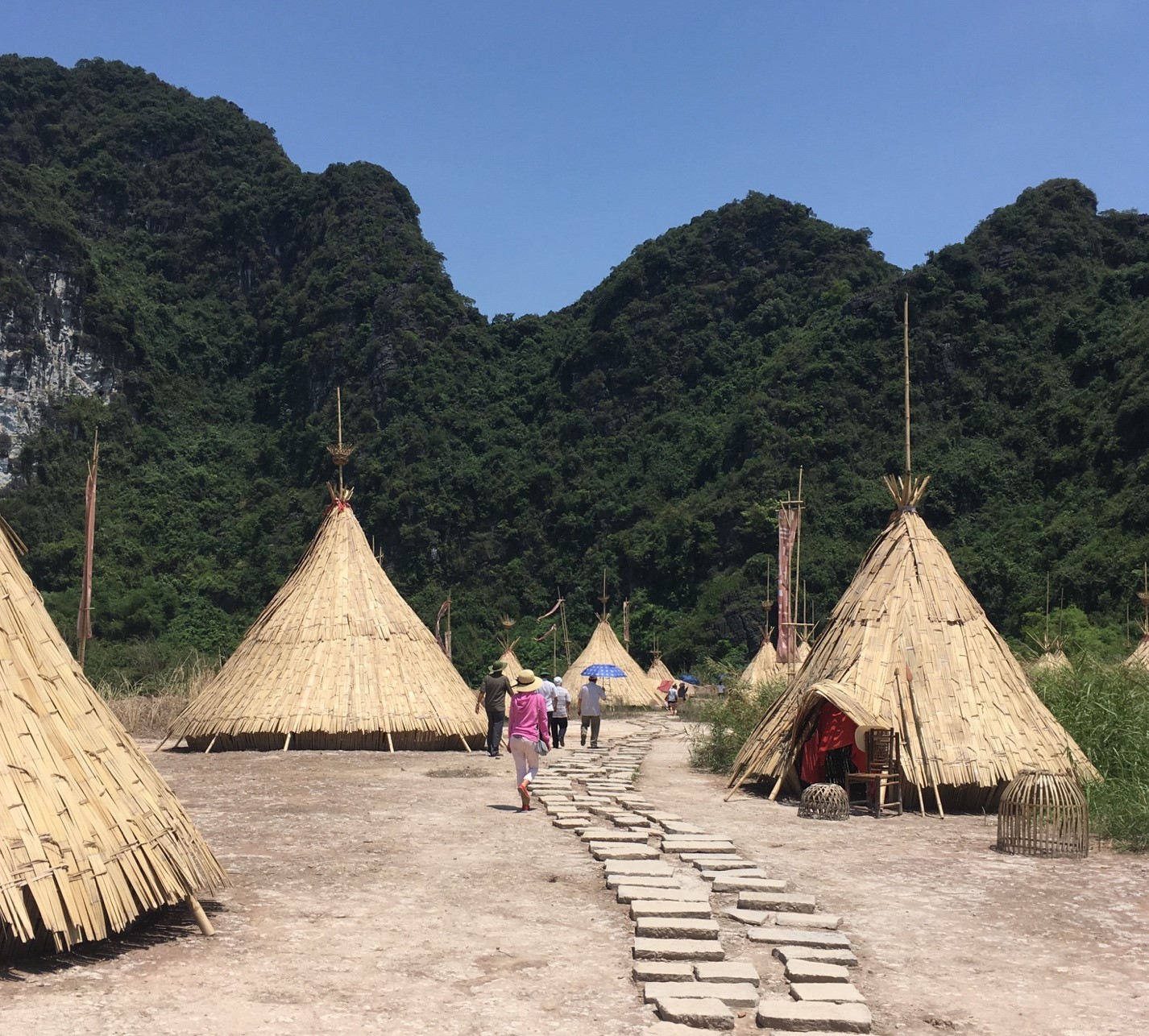 We went to a local spot for lunch where you can dine in a cave. You remove your shoes and then sit cross-legged on a raised platform. We had several local dishes, including fried corn kernels, garlic spinach, a whole fish, and a lamb stew served with rice cakes.  
Our last stop of the day was the Bai Dinh Pagoda. The temple covers a huge amount of ground. It is structured in a huge square, covering a whole hill. We walked up the right side of the temple (quite the hike, as it's all stairs) then across and down the other side. The trip up and back are both is lined with beautiful statues of gods – 108 in total. By the time we reached the bottom, however, we were ready to head home as the temperature had reached a scorching 46°C. We headed back to the city, stopping to take a look at some beautiful views of rice fields. Everyone passed out in the car after such a fun action-packed day.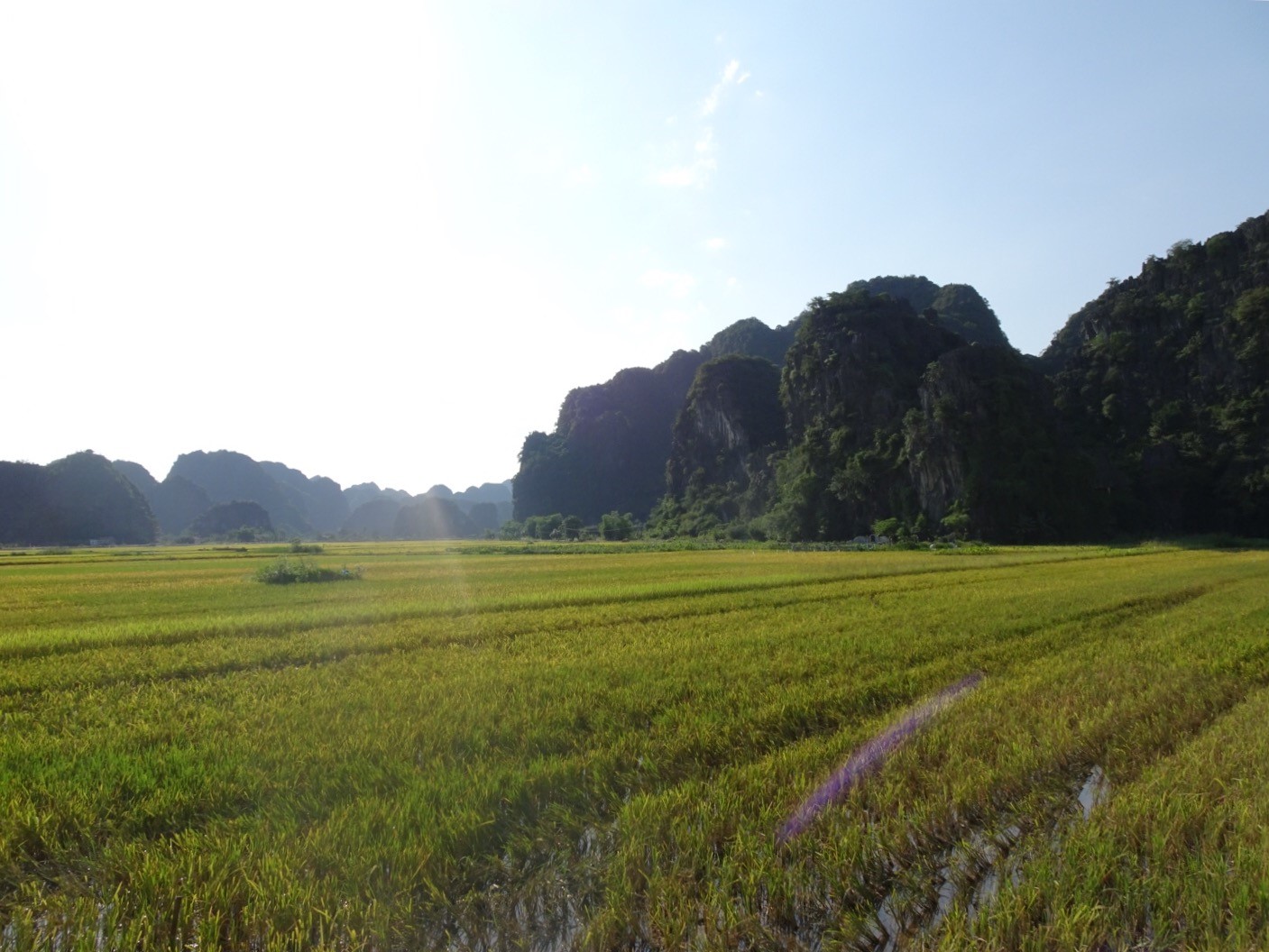 Overall, we both loved Ninh Binh and would highly recommend a weekend trip to any future IGL students in Vietnam.
Until next time, 
Meklit & Brianna
Keep up to date with our Students IGL & IAL experiences on Instagram @Iveymscstudentlife and Twitter @IveyMScStudents