MSc
Team Nicaragua: A lot of Gallo Pinto!
Ivey MSc Students
|
Jul 10, 2017
Keep up to date with our Students IGL & IAL experiences on Instagram @Iveymscstudentlife and Twitter @IveyMScStudents.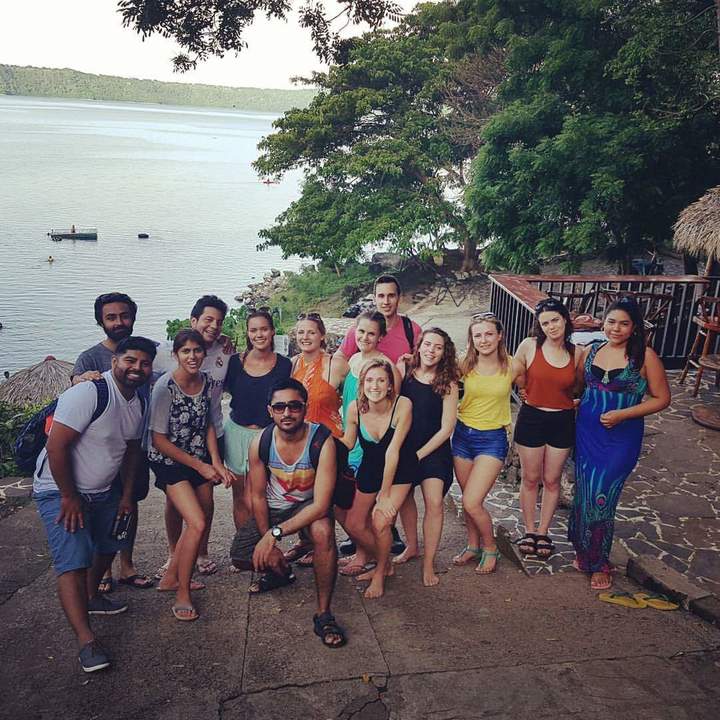 We met our classmates at the airport, slightly sun kissed and exhausted from our travels. Our shuttle took us to our homestays, where we would be spending the week with a host family. My host family was Rosa and Alfredo, who I would soon come to know as my Spanish grandparents. Rosa and Alfredo lived in Seattle for 15 years, where they raised five children. Rosa proudly showed me pictures from her retirement party, from her job as a custodian in a University Hospital. It was surprising that although they spent so much time in the United States, their English was extremely limited. Only returning to Managua a few years ago to retire, they still travel to the United States often to visit their children and grandchildren. They were truly the sweetest people and welcomed us into their house with open arms. Every day Rosa would show us new pictures of her children and grandchildren, proudly displaying their University graduation certificates on the walls.
Tayler's homestay seemed to be the most posh of the three, accommodating four of the girls and belonging to Zoila who was the homestay coordinator for the school. The homes were far nicer than expected, although there was no air conditioner and no hot water - something that Tayler and I had grown accustomed to during our travels in Honduras but was new to the rest of our colleagues. One major difference we could see from home was the value placed on security. Each home had 8 feet high fences and was locked with several padlocks after dark, giving the area an eerie feeling at nightfall. There were definite perks to the homestay however as the food was amazing (and so was getting fed three full meals a day.) After two weeks on the road, there is nothing better than a home-cooked meal. Nicaraguan food traditionally consists of gallo pinto (rice and beans), plantains, and chicken. The group had various dietary needs, such as vegetarianism and lactose and wheat intolerances, there were a few concerns about diet but each homestay had fresh vegetables and fruit at every meal, allowing everyone to get more than their fill.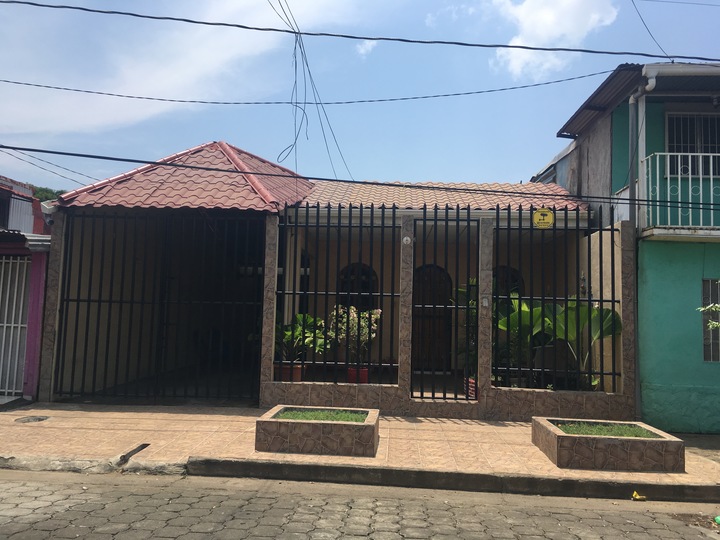 Casa Zoila!
During the week, ourselves and our non-Native Spanish classmates studied at VIVA Spanish school in Managua. We attended classes four hours a day, building onto knowledge from the Introductory Spanish class at Ivey. This was extremely important, as the classes focused on oral activities where we were able to practice forming sentences and learning business terms. Not only this, but our instructors took the time to educate us about the Nicaragua political and business climate and giving us more perspective on what to expect when we began our internships. Each afternoon, we practiced Spanish with our classmates and our various host families. We spent an evening having dinner at the Port, an area of restaurants and bars by Lake Managua. Managua also has a beautiful and huge mall called Galeria, with a wide variety of shops that would rival stores in Canada.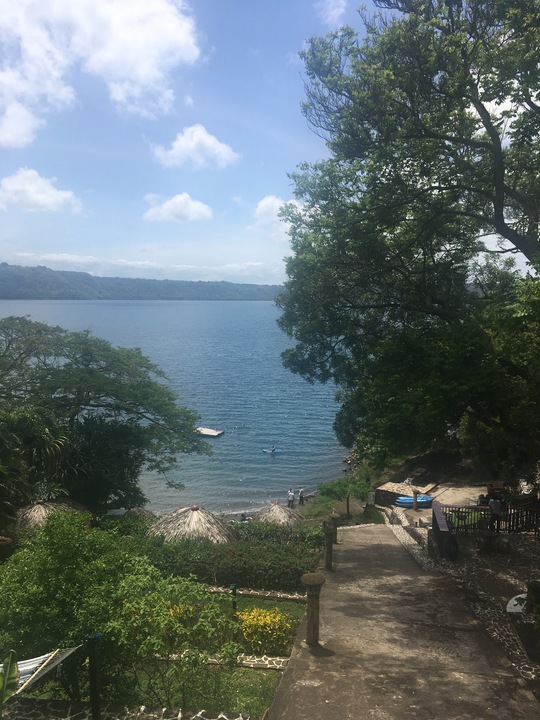 Views from Viva Spanish School. 
For our final evening, Tayler's host family threw her a birthday party where the host mother gave the girls Salsa lessons. To celebrate the group's first week in Nicaragua, we took a day trip to Laguna de Apoyo. A beautiful lagoon only an hour drive from Managua, this is an oasis for relaxation. Tayler, Esma and I decided to do a hike up to the lookout point. We did not anticipate the length or difficulty of this hike and soon found ourselves hiking in a jungle up a mountain in forty degree weather directly. After 2.5 hours, we made it to the top and although it was extremely strenuous, the view was well worth it. After returning from our hike we joined our classmates and went tubing, kayaking, and swimming in the Laguna.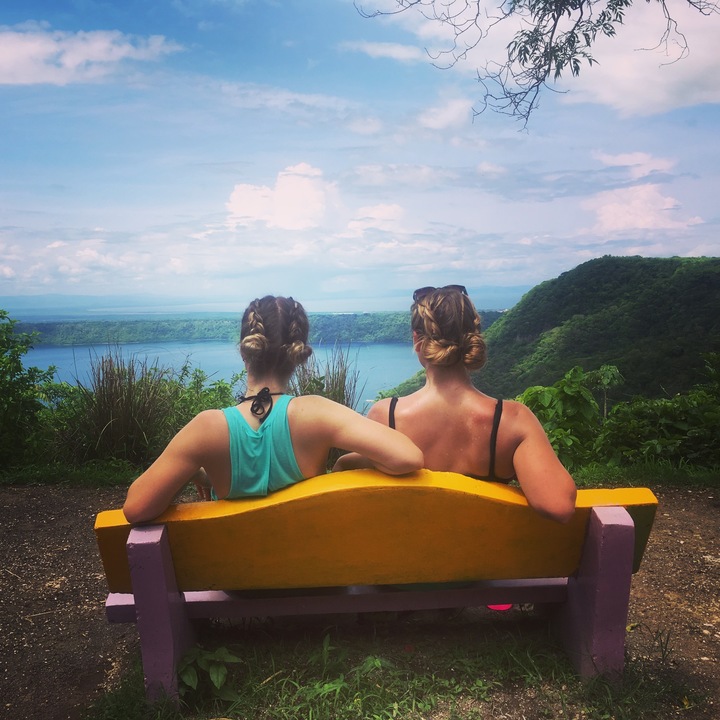 At the top of Laguna de Apoyo.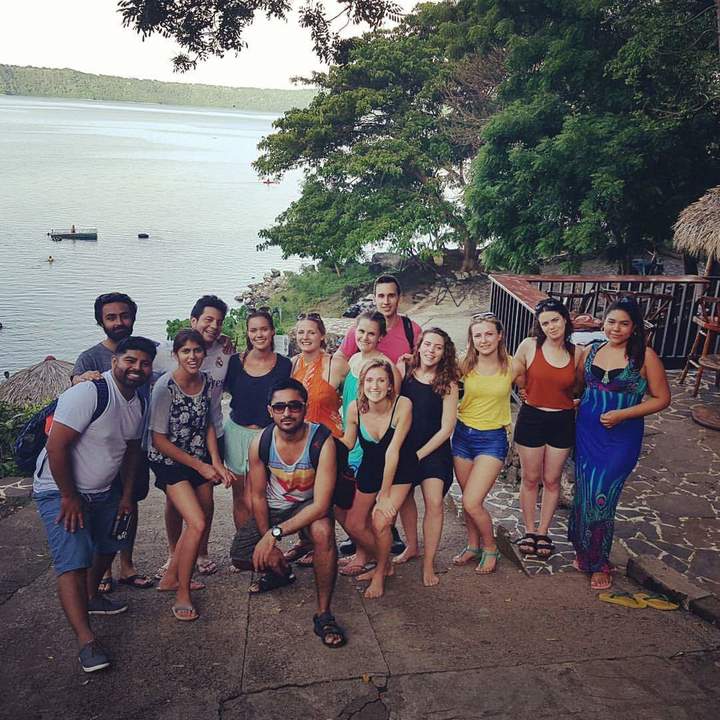 Team Nicaragua at Laguna de Apoyo. 
Although Managua definitely does not win awards for being the most beautiful city in Nicaragua, we are appreciative of it's accessibility to other tourist destinations in Nicaragua.  Devastated by an earthquake in 1972, the city lacks a downtown despite being the business epicentre of the country. Most tourists fly into Managua, and head straight to the surrounding towns of Leon, Granada and San Juan Del Sur. At every corner in the city, there are multiple people trying to sell items, everything from sliced mangoes, bagged juice, windshield wipers and steering wheel covers. During our homestay, every single morning at 6AM, we were awoken by a local salesman selling meat, yelling at the top of his lungs. The general atmosphere in Managua is chaotic and loud, quite the experience from Canada where individuals are typically quiet and organized. Things here are definitely different, but we're loving every minute of it.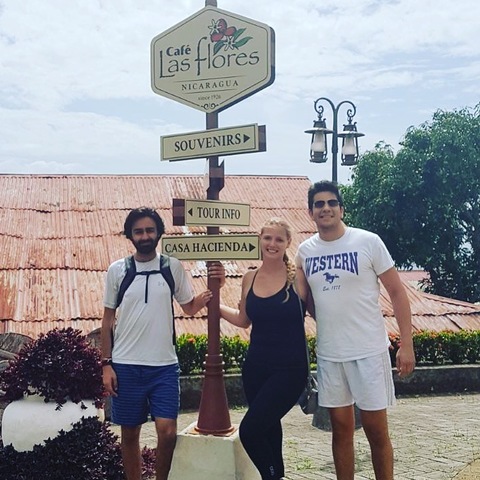 Team Cafe Las Flores
Beginning work after our Spanish colleagues had already laid the groundwork in the office took quite a bit of pressure off us. We were able to come into welcoming work environments with a clear base on the issues within the organizations and get right to work on our projects. The workplace itself does not differ too much from the Canadian equivalent. Cafe Las Flores has a modern building outside of Managua with air conditioning, perfectly adequate internet speeds, a 9-5 work day, and is connected to a Papa John's Pizza. There's very little more a Canadian intern could ask for. The equivalence to home does not mean that work has not had it's challenges, notably some cultural differences that we were told to expect such as the concept of "Nica Time". This is the time frame in which something will likely get done as there is a very minimal sense of urgency, meaning that asking for information can sometimes take days to procure results.
Another major difference we noticed was the lack of reliance on data. Back home, every decision typically has statistics to back it up, but this seems to be far from the norm and only a trend that is in it's beginning stages of developing. This has made information about demographics and buying patterns difficult to come by, leaving us to do our own primary research in the Nicaraguan market, certainly an interesting undertaking.
Overall, we found that our time leading up to the interim presentations was well used and are very excited to continue with our projects to deliver tangible results for each of our companies. We're even more excited to continue traveling and seeing beautiful Nicaragua over the course of our next few weekends here.
Stay tuned for break week!
April & Tayler