MSc
Tips for the Incoming International Business Streams
Nathan R. Peres
|
Oct 29, 2021
As January begins to near you will feel excitement, energy, and enthusiasm all at the start of the new school year. As you enter the first semester you may find this new environment unfamiliar, daunting, or maybe you're just plain excited. For myself, I did not even know where to begin.
My advice to you, let this momentum drive you as you enter the first semester. At times you will find yourself stretched thin between extracurricular involvement, Ivey Essentials course work, and off-campus social events. It's a balancing act, but let me remind you that it's par for the course. This is a process that will forge you into the next generation of business leader, so embrace it.
Here are three tips that helped me during my first semester at Ivey.
1) FIND YOUR STUDY BUDDIES
In the first days on campus, you find yourself surrounded—maybe even intimidated—by some of the world's brightest and smartest people. My advice, put yourself out there and take the time and initiative to formalize new relationships with peers who are unfamiliar. Yes, you will have a premade learning team, but go outside your comfort zone and brief cases with new people. You will get to generate new insights from others, create new friendships, and develop deep bonds within your program. All of which will leave with you once you are graduated from Ivey.
2) GET INVOLVED
I can confidently say that one of the most rewarding experiences during my first semester of the MSc program has been working within the Ivey MSc Association. Working in a dynamic organization has allowed me to work with passionate, intelligent, and driven individuals who all challenge me to be the best version of myself, both on and off campus. Getting involved means you get to share laughs, let loose, and have fun with people who are not from your cohort. We really embody the work hard, play hard mentality. Another benefit of getting involved, the ability to create relationships across the MSc program. This has allowed me to connect with students that were outside my Essentials classes. Another great way to develop long-lasting relationships. I can confidently say extracurricular involvement continues to, and has been, my favourite experience and I highly encourage you all to get involved.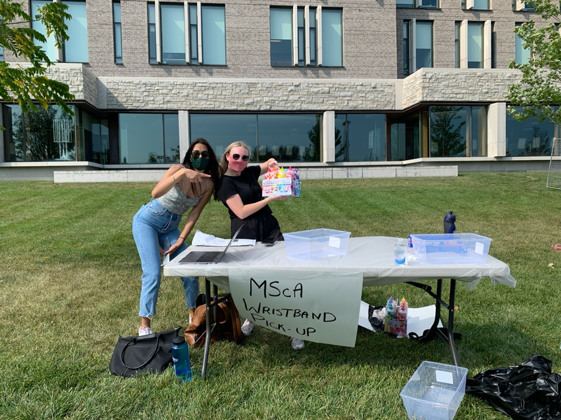 3) BE WILLING TO SPRINT EVEN WHEN THE DISTANCE IS UNKNOWN
During your first semester you will be placed in challenging circumstances, and no matter how consumed or worn down you may feel, my advice is to always put forward your best effort. Even though I am filtering my experience through what I know today, what's important is that I know the outcome. Reflecting on the outcome—this includes the growth and development that has occurred during my time at Ivey—makes me realize the value of a positive attitude, learning from failure, and how to acknowledge success.
To draw parallels to art, an artist vigorously kneads and works raw clay to make a beautiful sculpture. My personal sculpting continues as I manage to balance extracurriculars, a full course load, recruitment, and other social functions. Ivey can feel vigorous, but it will shape who you are as a student, a peer, and future business leader. No matter how worn out you are feeling continue to sprint. You will soon come to realize that the MSc program moves quickly, so make the most of it.
All in all, Ivey has been the frontier of personal growth. To the incoming International Business 2023 cohort my advice is simple; form strong friendships, get involved, and continue to harness the same energy you came here with.
P.S. Don't forget to have fun!
Please do not hesitate to reach out to me with any questions you may have. I love to chat (my classmates would quickly confirm this statement)!
Feel free to connect with me on LinkedIn here: https://www.linkedin.com/in/nathanrahamimperes/