MSc
Salma El Adl
|
Jun 21, 2022
None of us expected 2022 to start the way it did, but we were able to make it our own, adapt, and make the most of it. Apart from the (extremely) long winter, the second semester of the MSc taught us more about what it takes to become a digital leader and got us thinking about how technology can be modified and implemented to better fit another industry. All this was, of course, to prepare us for a summer of real-life cases, where we were going to oversee the whole project, come up with the solution, and present it to the client, as opposed to just reading and discussing it in class.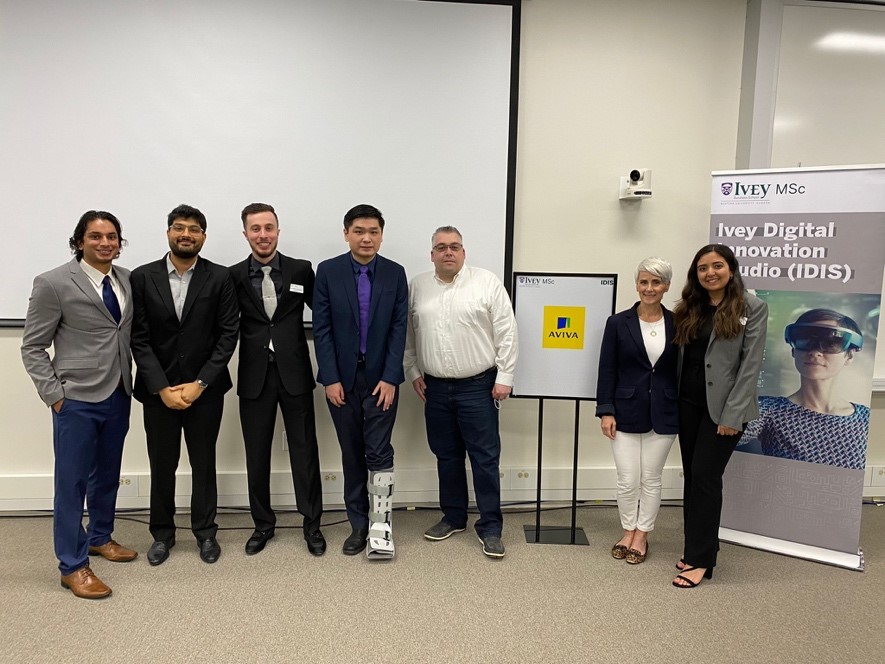 Above: Post-Sprint 1 IDIS Presentation with our Client and Executive-in-Residence
We've just wrapped up our first of 3 sprints that is part of the Ivey Digital Innovation Studio, and it has exceeded my expectations in many ways. This experience allowed us to engage with clients, understand the problem, and use everything that we have learnt over the past 8 months to help transform business to become more digital. At the beginning of the month, I started noticing many similarities between our projects, and what some of our cohort had done in Systems Thinking. Meeting with a client, understanding more about the company and the problem, and digging deeper into how the company it got to where it is now, and where they would like to be. Systems thinking transformed the way we defined a problem, how we implemented design thinking, and most importantly, how we came up with the solution.
Over this past month, we worked tirelessly on a single project, and that gave us a glimpse of what our post-MSc lives could look like. Within our groups, we brainstormed, ideated, and agreed (and sometimes disagreed) on how to transform a company and help it adapt to become a dynamic organization that can address future challenges. Because we have different experiences and academic backgrounds, narrowing it down to one solution was not an easy task. However, this challenged us and pushed us outside our comfort zones. Thinking outside the box while being realistic has now become our norm.
Getting the opportunity to engage with clients gave us a glimpse of what our post-graduation lives will look like. We transformed the way we present solutions, from a simple approach to a high-level, consulting approach. The Digital Management program continues to challenge us in different ways to contribute to our growth as digital leaders. Whether it's working with clients on current problems, or analyzing previous problems that companies have faced, what we take away from this is not just some learning outcomes, but a whole toolbox of skills and knowledge that we will continue to use well in our careers.