MSc
A CEMSie's Semester Abroad
Laura Davies
|
Jul 27, 2022
If you asked me at the beginning of 2021 if I would be studying at UCD Michael Smurfit in Ireland, I thought that there was no chance! COVID left me and many CEMSie's wondering if we would be traveling at all during their Master's degree. For example, my first semester exchange at the Norwegian School of Economics (NHH), took place at 2:00 am in my basement so as not to disturb anyone. Fast forward to December when the holiday season was ending, Canada was still in lockdown; however, most of Europe were lifting restrictions and returning to in-person classes. I received an email that said, "You can defer your semester or select a new exchange school" and the choice was obvious, so I opted for a new exchange school. I swiftly sent the email off to the CEMS Coordinator and alas, I was accepted into UCD.
In January of the New Year, I arrived in Dublin and my agenda was full. From meeting new CEMS students, attending classes, sightseeing, and planning weekend trips the semester was nothing short of spectacular. At UCD I was required to take 2 courses and complete a business project. Each course was worth double the credits than my previous two semesters'.
The Business Project
In a very short 12 weeks, the business project began with a long evening of presentations and ranking our best-fit choice. Project partner choices which included Deloitte, Danone, Henkel, Concern Worldwide US, and many others, it was an overwhelming decision because I was interested in all of them. The outcome for me was the opportunity to work with Microsoft, to develop a community-based software integration plan, and work with fellow CEMS students from France, Italy, and China. Each week was filled with planning, research, and client meetings. The final presentation was rewarding: the client appreciated the creative direction our project took and sought to implement it in the organization immediately.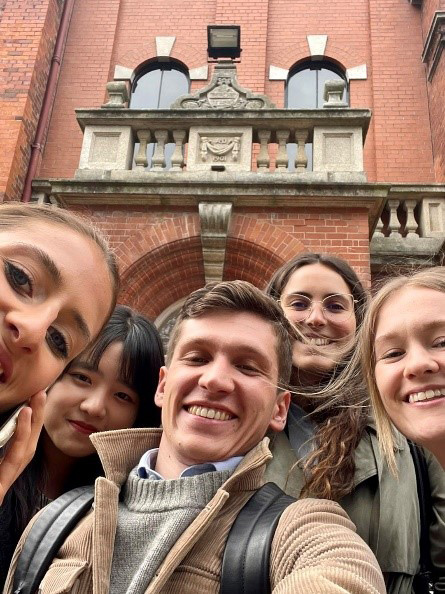 Social Events and Activities
When I learned I would be moving to Ireland, I was quick to become involved, joining the UCD CEMS Club. I became an event planner on the Social Events Team, helping plan and participate in many semester events, and representing my peers as a Class Ambassador.
Getting around Ireland was easy enough, and public transit in Ireland is by far the best I have encountered. Every weekend and even some weeknights I found myself taking the DART to explore Dublin City Center, visit a neighboring County, or walking to the beach for a very cool dip in the Irish Sea. My favourite memory was the day-long bus tour to the West Coast, exploring the Cliffs of Moher, winding through the Wild Atlantic Way and ending the day in Galway.
If you can understand the accent and fast-talking ways of the Irish, a semester abroad in Ireland is the perfect opportunity to experience a culturally diverse Country, expand international connections and friendships, and take part in a rigorous and diverse business project. Come see for yourself why Ireland is known as the Emerald Isle!