In partnership with:

MSc Hack the Case
Our MSc Program offers an experience that will jump-start your business analytics career
---
Armed with a mountain of customer data, teams of Ivey MSc students analyze a real-world business problem under tight time constraints. What do they get out of it? More than they ever imagined.
Why consider
Hack the Case?
Why consider
Hack the Case?
REAL-LIFE EXPERIENCE = REAL CAREERS
Data analysis is not just a wave of the future. It is the future of business. Knowing how to analyze complex and large data to make fact-based decisions will be required in the coming age of disruption and change. Are you ready? How will you know you have what it takes? Hack the Case, a part of Ivey's MSc Program, gives you a sneak preview of the challenges that lie ahead. Hack the Case is a business analytics competition offered exclusively to students in Ivey's MSc Business Analytics stream. It gives them a chance to solve real problems for real companies and see the solutions come to life.
Ivey's 16-month MSc Program is a transformational experience for recent grads who want to hone their skill sets, develop their leadership abilities, and kick-start their careers.
REAL DATA. REAL PROBLEMS. REAL ANALYTICS.
The Ivey MSc Hack the Case event, presented by Deloitte and SAS, is an intense competition that will give you an opportunity to work with real data provided by a client – currently Scotiabank – that is facing a business challenge. During the allotted preparation time, you'll work with your team of fellow MSc students to analyze the data to understand Scotiabank's business problem and determine a recommendation. The challenge will be revealed at a kick-off event on the first day of the competition. On the final day of the competition, you'll travel to the Deloitte office in Toronto where you will present your final recommendation to the client and a panel of judges.
"Analytics skills are a critical component of highly qualified personnel in today's knowledge economy. Ivey'sHack the Case Competition exposes students to real-life data and toolsets – we're excited to partner again with Ivey on this year's challenge."

—Chris MacPhee, Systems Operations Manager, Centre for Advanced Computing @ Queen's University.
MENTORSHIP MATTERS
Your team will work with mentors from Deloitte and SAS throughout the competition. During the first three days of the competition, you'll also receive intensive corporate training from SAS employees. You'll learn from their expertise and get a chance to build relationships with data-focused professionals. It's great for your resumé and will help you hit the ground running when you graduate.
What is the
experience like?
What is the experience like?
AN INSIDE LOOK AT HACK THE CASE
The inaugural event – April 21-May 1, 2017
Setting the SCENE for Scotiabank
The challenge: Each team was presented with a set of real, but masked, customer data from Scotiabank's SCENE loyalty card program and was required to solve a business problem: How do you convert SCENE loyalty customers who don't bank at Scotiabank to banking or Visa card customers? Typical promotional campaigns might go to 50,000 or 100,000 people at once, which can be costly. The students identified smaller micro-targeting groups that might be more likely to respond to a focused message.
NOTHING TO LOSE, LOTS TO GAIN
A panel of judges chooses the winners based on their strategic insights and management acumen. Through the Ivey Analytics Lab, some of the students also had their practicum experiences with Scotiabank and Deloitte, so Hack the Case prepared them for what might lie ahead.
The prizes: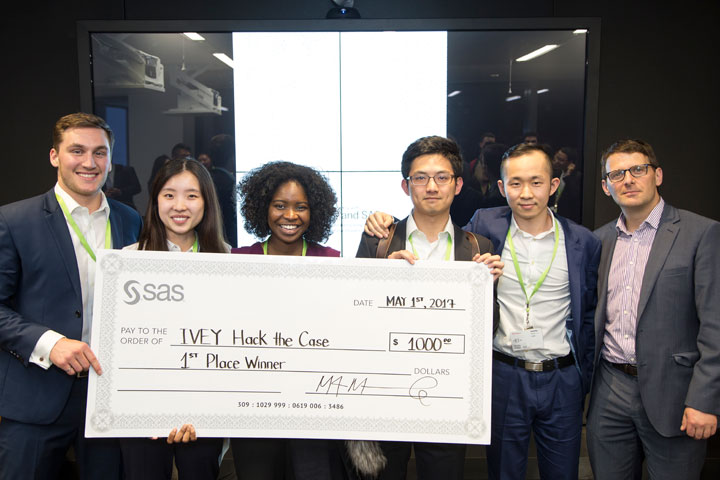 The 2017 winning team, The Hack Street Boys, took home $1,000.
1st place – $1,000
2nd place – $500
3rd place – $500
MAKING HEADLINES
Hack the Case is a different kind of student experience and it's getting noticed. Read the coverage: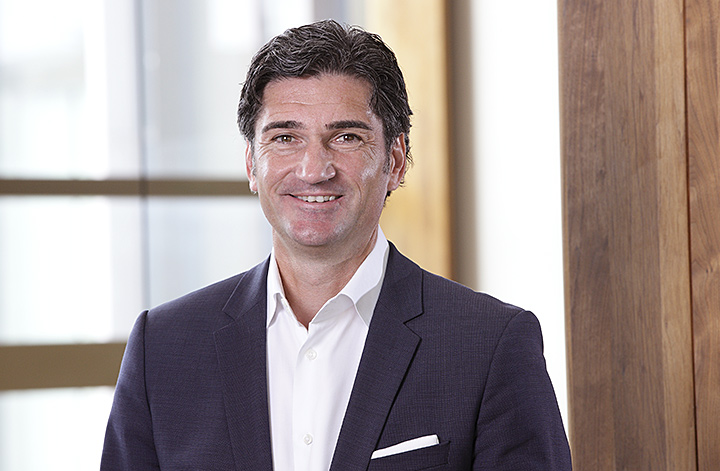 Andreas Schotter, Assistant Professor of International Business, and Academic Director of the CEMS Global Alliance Masters in International Management program
DATA MATTERS
Research shows that even modest investments in data analysis can give companies impressive gains and competitive advantage. Yet there is a shortage of talented individuals with both the technical knowledge and strategic acumen to extract meaningful insights and make data-based decisions. Events like Hack the Case will help you to develop the skills, capabilities, and experiences that the companies of today – and tomorrow – are looking for. Ivey's MSc Business Analytics graduates go on to work at companies such as BCE Inc., Pricing Solutions, Metrolinx, Deloitte, Scotiabank, and many more.