Quick Facts                                               

Location: Addis Ababa, Ethiopia 

Date Founded: 1950

Total number of students: ~ 50,000

Contact Details

Web: www.aau.edu.et

Email: business.economics@aau.edu.et

Phone: +251-111-229231
Shipment details:
Shipment arrival date: January 27, 2014
Size of shipment: 20 ft. container content
Contributors to the shipment: Western University bookstore, Textbooks for Change, Ivey and Western faculty
Letter of appreciation: Dr. Wubshet Bekalu, Addis Ababa University
Dear Prof. Beamish, 
First I would also like to extend my deep appreciation for you, all your colleagues and to everyone who took role in collecting, sorting, shipping … the books to us.  We're very much enthusiastic and committed to work with Ivey and further enhance our partnership. 
When the shipment arrives our compound we're planning to keep it in a safe and secured place until the books are sorted and transferred to our libraries.  We're planning to organize a team of faculty members who will coordinate and undertake the sorting and identifying of the books and where they shall be placed.  Regarding extra copies of books or books that may not be used by our school, we are also planning to transfer it to other libraries in our university—Addis Ababa University or send it to other partnering regional public universities on Ivey's behalf.
We will also report if there are any content included in the container which is not relevant/useful to our or other similar universities.  We also are planning to get pictures as much as possible, at least at each major stage that the shipment goes through till it gets here.
At last, we would appreciate it if you let us know the name of individuals and/or institutions that took part so that we can prepare and send them the thank you letter they very much deserve! 
Once again, thank you for your cooperation and time.  We look forward to hear from you and our continued partnership.
Best regards,
Wubshet Bekalu (PhD)
Head, School of Commerce
College of Business and Economics
Addis Ababa University
Letter of appreciation: Dr. Admasu Tsegaye
President of Addis Ababa University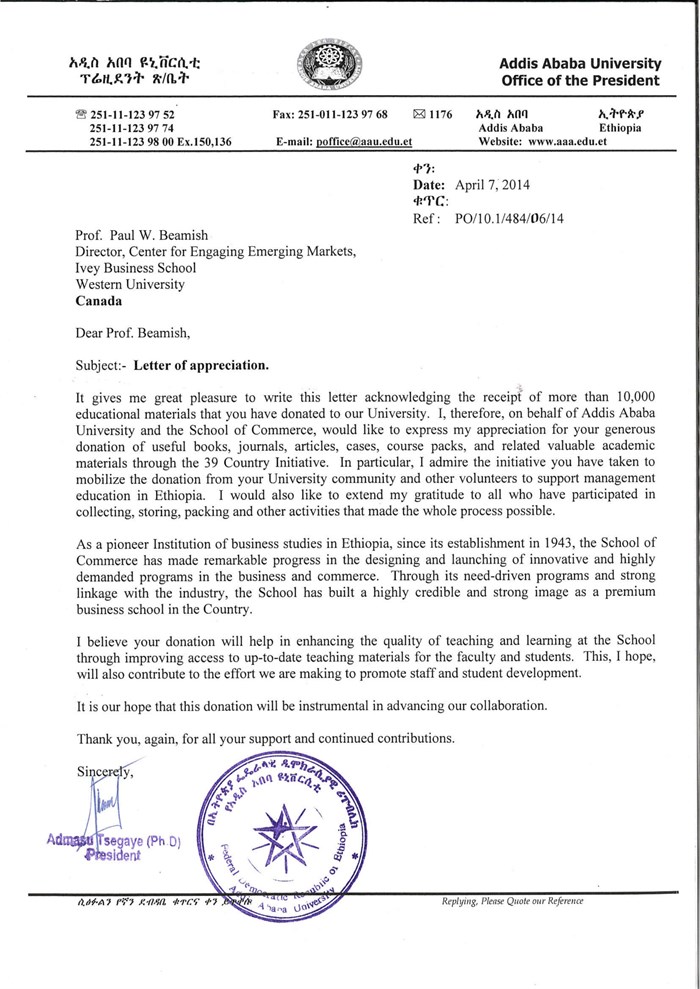 The shipment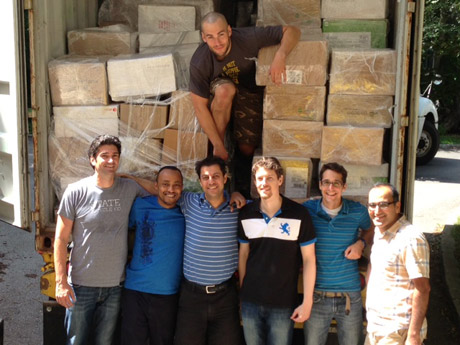 It takes the efforts of many volunteers to make each initiative we undertake a success. The image to the left features some of those individuals who assisted with the shipment to Addis Ababa University. (L to R) Andreas Schotter, Yamlaksira Getachew, Bassam Farah, Alex Beamish, Yves Plourde, Majid Eghbali-Zarch. (Top) Patrick Schulist.