Quick Facts                                               

Location: Eldoret, Kenya

Date Founded: 1984

Total number of students: ~ 55,000

Contact Details

Web: www.mu.ac.ke

Phone: +254 790940508
Shipment details:
Shipment arrival date: October 16, 2015
Size of shipment: 40 ft. container content
Contributors to the shipment: Textbooks for Change, Ivey faculty
Shipment report
Margaret Thatcher Library of Moi University has received the much-needed shot in the arm in research and learning resources following the donation of books worth Ksh. 50m by Ivey Business School and Textbooks For Change.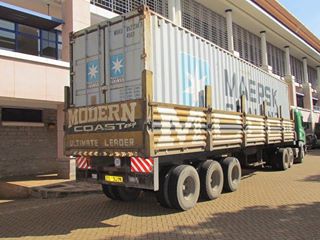 The 28, 000 volumes of textbooks were received on October 16, 2015 by Moi University staff drawn from Margaret Thatcher Library, School of Business and Economics, office of the Vice Chancellor among other departments. "We are happy to receive such a big consignment of textbooks from our academic partners. The books will go a long way in equipping our library resources and help boost the university's as well as the students' researches," said Bernard Ombati, a representative from the office of the Deputy Vice Chancellor in charge of Academic Affairs, Research and Extension.
Isaac Cheruiyot, an accountant in the School of Business and Economics, who represented the school dean, Prof. Thomas Cheruiyot, hailed the donors' gesture of promoting academics at Moi University and Africa as a whole.
Assistant Procurement Officer from Moi University's Central Stores, Ms. Lilian Manono, said the consignment arrived at Mombasa Port from Canada on August 31, 2015 and the university spent Ksh 734, 870 in clearance and transportation of the books from Mombasa to Moi University main campus in Eldoret.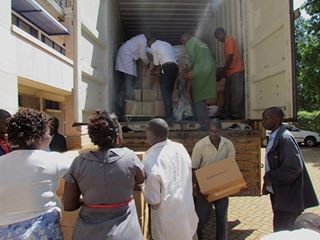 Mr. James Abisai, head of Technical Services at Margret Thatcher Library, said the donation followed a request by Dr. Charles Lagat, head of Marketing and Logistics in the School of Business and Economics to Ivey Business School for support of reading materials. Dr. Lagat is also the Coordinator of International Collaborations in the School of Business and Economics.
Mr. Abisai explained that officials from Ivey Business School and Textbooks For Change paid Moi University a visit from July 19 to 22, 2015 to familiarize themselves with academic programs offered by the university, particularly in the School of Business and Economics. The officials toured various departments of Moi University including Margaret Thatcher Library.
Mr. Abisai added that the consignment was worth Ksh. 50m, categorized in various academic disciplines.
"Such a consignment is distributed to various Moi University branch libraries depending on the academic programs offered in campuses where the libraries are situated. There about 13 branch libraries of Moi University across Kenya, among them, main Margaret Thatcher Library, College of Health Sciences Library, Moi University School of Law Library, Moi University Nairobi Campus Library and Moi University Coast Campus Library in Mombasa," explained Mr. Abisai.