Quick Facts                                               

Location: Nairobi, Kenya

Date Founded: 2012

Contact Details

Web: www.riarauniversity.ac.ke

Email: info@riarauniversity.ac.ke

Phone: +254 703 308 000
Shipment details:
Shipment arrival date: May 2016
Size of shipment: 20 ft. container content
Contributors to the shipment: University of Queensland - staff from twelve schools and institutes within the University of Queensland donated content
Shipment report from Queensland University
Professor Beamish writes "business schools are encouraged to collect books, journals, course packs/readings/cases for shipment to an institution in one of the 39 countries.  To date, shipments have gone to Ethiopia, Ghana, and Kenya (in process).   The 39 countries eligible to participate are: Afghanistan, Bangladesh, Benin, Burkina Faso, Burundi, Cambodia, Central African Republic, Chad, Comoros, Democratic Republic of the Congo, Cote d'Ivoire, Eritrea, Ethiopia, The Gambia, Ghana, Guinea, Guinea-Bissau, Haiti, Kenya, Liberia, Lesotho, Madagascar, Malawi, Mali, Mozambique, Myanmar, Nepal, Niger, Rwanda, Sao Tome and Principe, Senegal, Sierra Leone, Somalia, Tajikistan, Tanzania, Togo, Uganda, Zambia and Zimbabwe".
The University of Queensland, UQ Business School, has responded to Professor Beamish's Initiative by establishing a student project to collect a shipment of textbooks and to forward them to a worthy university in Kenya.  Beginning in 2015, on The University of Queensland, St Lucia Brisbane campus, a student group under the guidance of Calvin Zhang instituted a collection process of unwanted but current and quality textbooks volunteered by staff in the business and management fields.  Many of the 7000 plus textbooks were still shrink-wrapped, and all books that were bundled for shipment were of high quality.  A 20ft container was filled and shipped to Riara University in Nairobi, Kenya.  Professor Abel Kinoti, Dean, Riara School of Business had been approached with the offer of this shipment of books, and he was most welcoming of the offer.  As the UQ Business School is a comprehensive business school, the shipment included textbooks on the full suite of business and management fields.
In May 2016, the shipment arrived in Mombasa for transportation to Riara University. Professor Kinoti took possession of the shipment, and a formal handing over ceremony was arranged at which the Australian High Commissioner, Mr John Feakes, presented the shipment to Riara University on behalf of the UQ Business School.  Professor Kinoti says that his shipment has now doubled their books stock in their Library.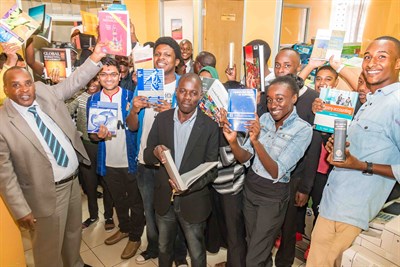 Upon hearing about the 39 Country Initiative and returning to the UQ Business School after an AIB meeting, Professor Peter Liesch said of the project that after observing academic staff abandoning textbooks, often new, to waste, the 39 Country Initiative provided an excellent opportunity to better make use of these books.  Professor Liesch recruited his colleague, Dr Lance Newey, because of his connection with student social entrepreneurship. Dr Newey writes: "Professor Liesch felt that UQ Business School could make a very sizable contribution to the 39 country initiative. Importantly though, he wanted it to be a student project – students would connect project management, international logistics and social causes". UQ Business School is committed to a student experience based on theory + practice + impact. "The success of our Kenya project owes a great deal to Cass Vickers and the Community Engagement Program at UQ", Dr Newey said. CEP, as it's known, offers volunteering opportunities to undergraduate students wishing to work with not-for-profit organizations in a consulting capacity.  Students get to put theory into practice to have a social impact on a cause they are passionate about.
The passion and enthusiasm shown by the students has been absorbing.  CEP unearths stars like Calvin Zhang, who worked tirelessly on this project but with determination and resilience saw it through to completion. Mr Calvin Zhang writes, "The 39 Country Initiative student team comprised of Megan Daulby, Maddi Duncan, Derrick Pereira, Declan Tiso and Calvin Zhang, and we all volunteered as part of the Community Engagement Project at UQ.  Our task was to find books that were collecting dust and cluttering up the offices of staff within the Business School, and send them to a new home where they would be better utilised. We spent many afternoons raising awareness of the initiative, collecting books and preparing them for shipment. While the project initially focused on collecting from the Business School, we realised that in order to fill a large shipping container we would need input from other schools if the project was going to be completed in a timely manner. We expanded our search to schools cognate with business. In the end, staff from twelve schools and institutes within UQ participated, and over 7000 textbooks were donated. It was a long but rewarding journey for all of us, and after a year, the books finally arrived at Riara University in Kenya where they are currently in use by their students and staff".
It is most probable that another such venture will be undertaken at UQ, Professor Liesch has signalled, as unwanted textbooks continue to be relegated to waste. He thanked staff who gave up textbooks for this project.