MBA
Feature Profile: Niki Liu, Ivey MBA 2015
MBA Recruiting
|
Feb 20, 2015
Degrees: B.A. Economics, Xiamen University, Xiamen, Fujian, China
MSc Economics, University College London, London UK
Hometown: Tianjin, China
Before coming to Ivey, I worked as an Associate Principle at Meritco Services. While at Meritco, I was immersed in ten industries including CPG, healthcare, industrial goods, auto, and real estate and engaged on projects covering due diligence, portfolio management, and strategic growth. As Meritco Services rapidly grew from a staff of six in a cramped space to a team of seventy in three offices in five years, I progressed from business analyst, to managing one engagement, to leading a practice with multiple ongoing engagements and profit and loss responsibility. Completing my MBA was a crucial decision for me along the career development trajectory.
Choosing Ivey, I was particularly drawn to Ivey's case-based learning method, which reflects real-world situations. It's not only the preparation of a case with the learning team that helps you to push your thinking to the next level, but also the class contribution that pushes you to think on your feet and provide quick reactions — both of which are crucial training for real business environments. In addition, with the diversity of the Ivey class, the class discussion has always been knowledgeable and informative. Classmates with different backgrounds bring diverse perspectives and industry knowledge to class and make the theories and techniques taught in the courses more tangible and practical. Learning classmates' perspectives on analyzing a case is always helpful to deepen and broaden your own thinking.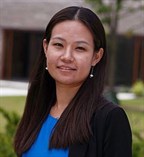 As an international student, although I already had international exposure studying in the UK, working in Tehran, and serving clients from both North America and Europe, I still feel Ivey's pace is quite challenging. I am glad that class contribution and networking continue pushing me to step out of my comfort zone. Both curriculum and non-curriculum activities are well designed to help you to push the boundaries. Each time I face a challenge and am at the edge of giving up, the suggestion from the 2014 graduates always comes to mind: trust the system and keep trying. Also, you will never lack support from your team, classmates, faculty, and alums.
I am confident that my decision to come to Ivey was the right one and I believe the year at Ivey will be memorable.