MBA
My MBA Journey - Rohit Sharma, MBA 2019
Rohit Sharma
|
Mar 22, 2019
I'm writing these reflections as I approach the last week of my one-year MBA journey at Ivey. I can certainly say that I have had an incredible experience in the past 13 months and, most importantly, I reflected a lot.
The real learnings for me came from the people in my cohort. When you are constantly surrounded by such an accomplished and intellectual cohort, your thinking changes tremendously. Theoretical concepts come to life when a roomful of smart people can relate them to their personal experiences. In class discussions, it is difficult to raise your hand and share your perspective in front of such an accomplished and diverse peer group. I remember how unbelievably fast my heart was beating the first time I raised my hand to contribute in the class. But that is the real learning embedded in the Ivey MBA journey: you learn to speak your mind and understand your peer's perspective. The case-based class discussions have helped me transform the way I approach and solve problems.
The structure and extreme workload of a one-year MBA at Ivey — especially when combined with professional and family lives — demands a very focused prioritization approach. The academic, social, and professional activities are so plentiful that it is not feasible to participate in everything. I also had to allocate time to talk to my wife, who was based in India. I was only able to manage all this because I learned to say "no" very early in the program. I planned my day and stuck to the plan no matter what. I was even able to take some time out to volunteer at the local animal shelter every week.
In the Ivey MBA, the core study period helps to build a foundation in strategy, marketing, finance, and other business fundamentals. But outside of that core curriculum, there's a huge variability in one's learning because of varied elective courses, one-on-one faculty interactions, peer group learning, and each student's own motivation. This makes it almost impossible to talk meaningfully about the MBA experience in generic terms. However, I can share two of the biggest transformations Ivey has brought about in me.
     Ivey helped me to reflect on my Leadership style
I was an entrepreneur and was very opinionated when I joined the MBA. Several times during the team projects I felt that had I worked alone, I would have been much faster. Yet often at the end of the project, I realized that specific inputs provided by others, which I didn't even think about, led to much better results. Post-MBA, I will seek out diverse opinions and will always be open to various ways of approaching a problem. Now, I sincerely believe that being humble and open to ideas as a leader is the best leadership style one can have.
     Ivey taught me to present my true self — "You do You"
Prior to Ivey, I used to hide my weaknesses and present only my stronger side not only to acquaintances but also to my close friends. There were moments in the program when I exposed my vulnerabilities to my friends at Ivey and vice versa. This was a transformational experience for me as I felt more connected and forged stronger relationships with them. One such moment was when a few of my close friends helped me navigate a personal relationship battle I faced last year. Post MBA, I will not be afraid to show my emotions and who I am. I will be known for who I truly am as a person. Even though I may not be liked by everyone, I will have stronger relationships with the people who will truly matter to me.
I write these reflections not knowing what the medium or long-term impact of the MBA will be. But I know that the Ivey MBA has given me specific skills, expanded my network, and changed my approach to work and life. I feel grateful to my family, and to so many people who have filled me with constant affection and support. I have learned how to be truly happy. Happiness is a choice that only depends on you, and it is certainly not defined by what happens in life — instead it is defined by how we react to what happens in our lives.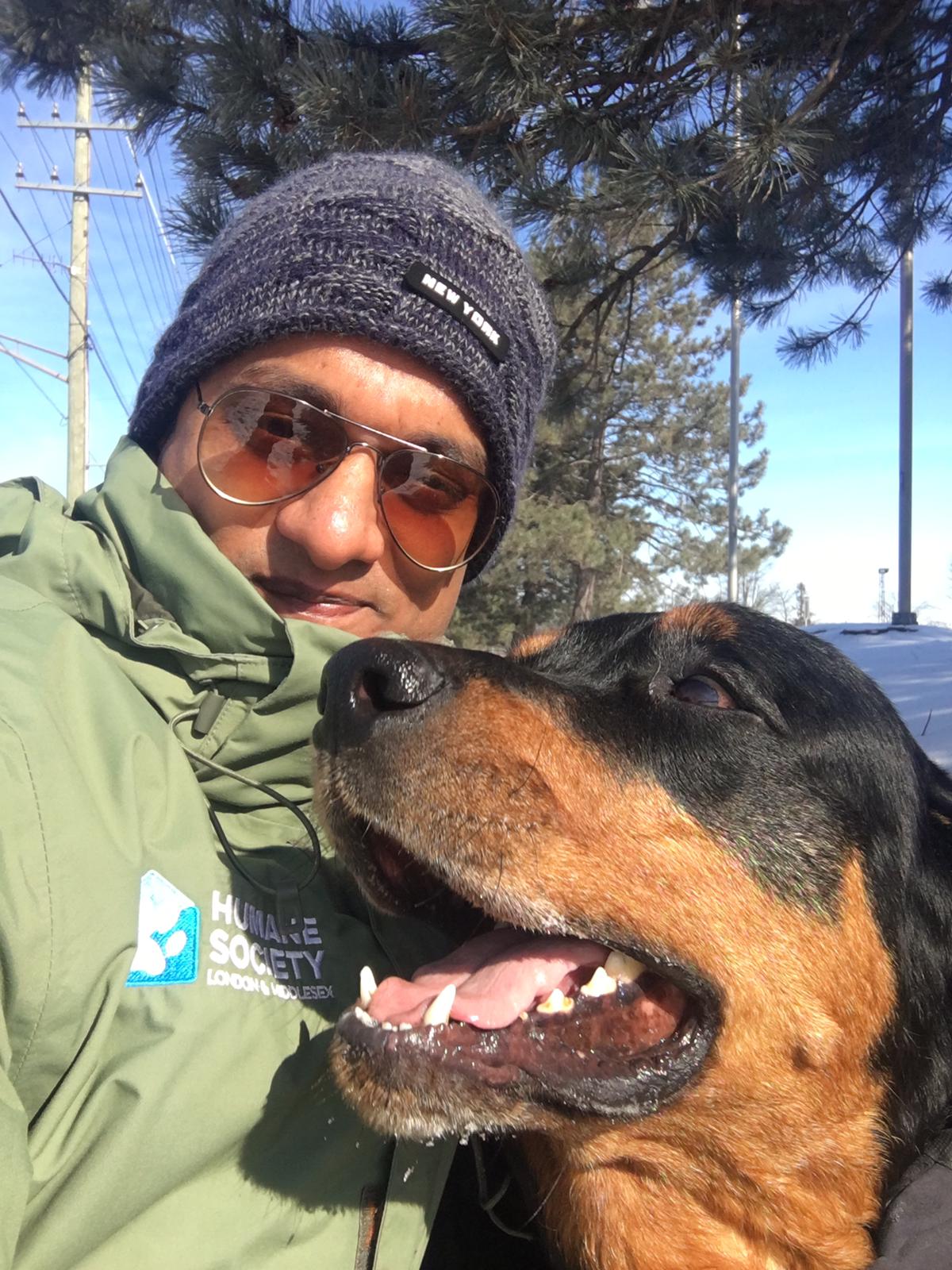 Volunteering at London Humane Society.