I graduated from India's top law school in 2015, and started my professional journey as a corporate lawyer, where I advised my clients on a variety of transactions, such as structuring international funds, financing, investment transactions, M&A, and corporate disputes. After three years in a law firm, I realized I was interested in expanding my skillset to advise businesses from a multi-dimensional perspective (i.e. on business, technology, and regulatory issues), and thus, I sought and secured a role as a management consultant at Deloitte.
In 2019, my partner and I decided to move to Canada, and I thought of pursuing an MBA to improve my understanding of business fundamentals, the Canadian industry, and the local culture. As I was scouting for business schools, I learned Ivey was known for its impressive alumni networks in the financial services and consulting industries. Further, I had the opportunity to attend an in-person class visit on the Ivey campus and was impressed by Ivey's Case-Method Learning, and the level of intellectual curiosity in the classroom. But what stood out for me at the time, was how invested the Admissions Committee and Career Management teams were in the personal development of each candidate. As a prospective international student, I knew I was going to be in safe hands with the Ivey community, who would nurture and push me to achieve my professional goals.
Ivey brings together a diverse cohort of individuals to enrich the classroom discussions and experience. Accordingly, I believe Ivey chose me because of my unique background in law and consulting, and my ability to demonstrate leadership while taking new challenges head on. But most importantly, I resonated with Ivey's values of culture, cohort, and community. It's these very principles that unite our class, even in the unforeseen times of the pandemic. I'm lucky to be part of a cohort that has left no stone unturned in replicating the energy and motivation of in-person connections through virtual meetings, social sessions, and so much more. As we slowly head back to normalcy, I look forward to reflecting on my learnings through this transformational year, and enter the workforce deserving of the Ivey alumni badge.
Additional Information
Head, Fintech Group
Senator International
Every sport possible
Pre-Ivey Residence
MBA '21
Ivey Business School
Abhilasha Mondal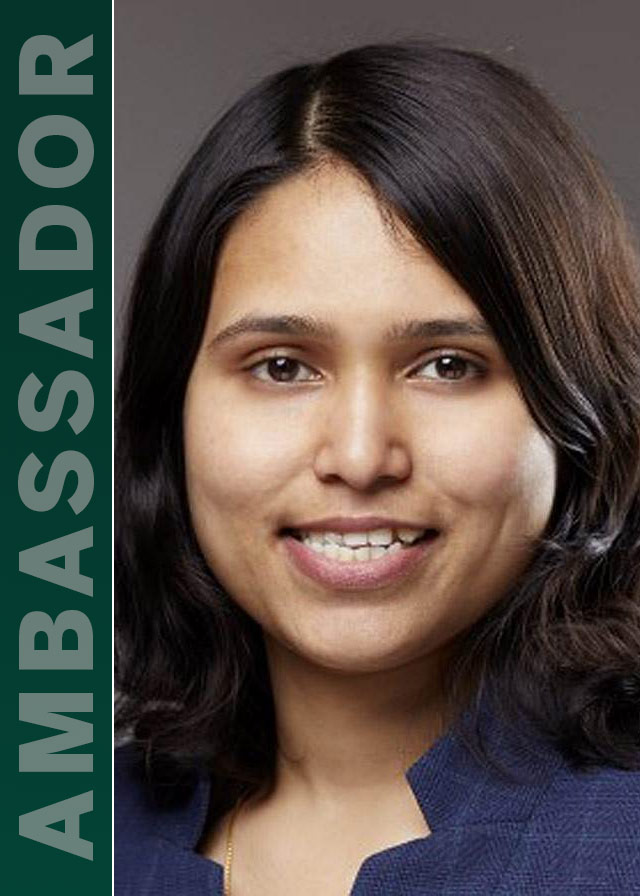 Mumbai, India