I attended Western for my undergraduate degree majoring in Accounting. After graduating, I started my career at Hudson's Bay Company in its Leadership Rotation Program and then worked on the Buying and Planning Team. I then moved to Indigo Books and Music, where I worked on the Financial Planning Team.
I always knew I wanted to pursue an MBA, which is why I decided to apply after only a few years of work experience. My work experience in the retail industry, and degree in Accounting, gave me a strong foundation for an MBA program, and after attending information sessions and networking events with Ivey, I knew it was the perfect time for me to apply. Further, I always knew Ivey was the number-one MBA school on my list (plus I loved my time at Western, so why not come back to London?). After speaking with my Ivey Buddy, whom I was assigned to after being admitted, and attending the class visit, I knew it was the place for me. Not only did I feel like Ivey valued my work experience, but they took a strong interest in my volunteer and leadership experience, as well.
I am currently on the Executive Team of the Corsage Project, an initiative that helps underprivileged females; an organization close to my heart. I strongly believe in empowering women, specifically in the business world, and felt that Ivey was the place for me to grow personally, and also expand my network within the Ivey family.  
Before starting the program earlier this year, I would never have guessed this is the way my MBA would turn out. Although we only got to spend a few weeks together in person before the pandemic hit, I was able to build relationships immediately with my classmates and continue to foster those relationships through the virtual environment. My entire class and the Ivey faculty made a huge effort to make the most of this new situation, and make us feel as though we were still getting the most out of our experience. Balancing school and COVID-19 taught me how to be more resilient to any situation thrown my way; and more importantly, taught me to rely on my support system. After being at Ivey for only six months, I have already made friends I know I will keep for the rest of my life, and who motivate me to be the best version of myself each day. The Ivey MBA Class of 2021 is a strong one, and I am extremely grateful that I received the opportunity to be a part of it.
Additional Information
Co-President of Women in Management Club

Member of Consulting Club

Member of Wine and Culinary Club
Pre-Ivey Residence
MBA '21
Ivey Business School
Alina Salemohamed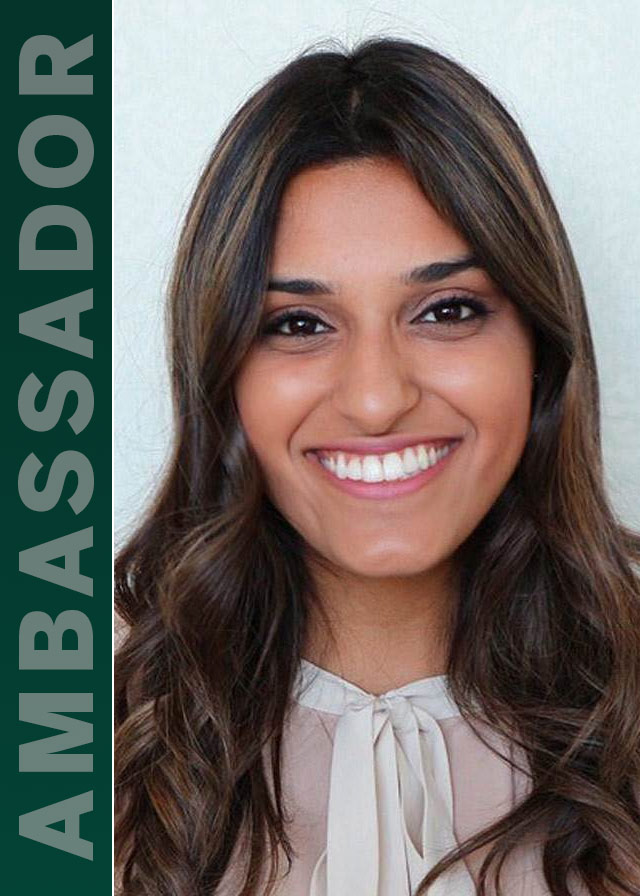 Vancouver, Canada