An Unforgettable Experience
Life at Ivey will be nothing less than one of the best years of your life. The shared experience you will have at Ivey forms a lifetime of personal and professional connections that will be integral to your future career success.
Small Class Size
Our students continue to say that the small class size provides the basis for an exceptional MBA experience. You will get to know every one of your classmates and the relationships you form here will last a lifetime.
Non-Commuter Campus
Everyone in our class is moving from somewhere else and committing completely to their year here. This isn't just classroom time, it's social events and building relationships outside the classroom — a completely immersive experience.
Close-Knit Community
The close-knit campus environment gives you the unique opportunity to form stronger ties with fellow classmates because you enjoy everything that the Ivey MBA experience has to offer – together.
Diverse Classmates
Ivey attracts some of the most talented young professionals from all over the globe. In addition to their diverse cultural and geographical backgrounds, the quality of professional experience that students bring to the Ivey MBA classroom consistently raises the bar for the learning environment and student success year-over-year.
Education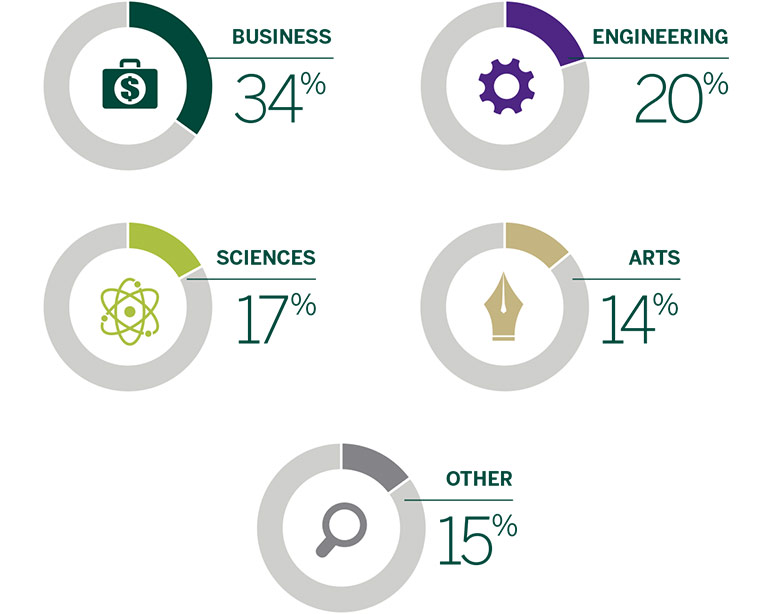 Industry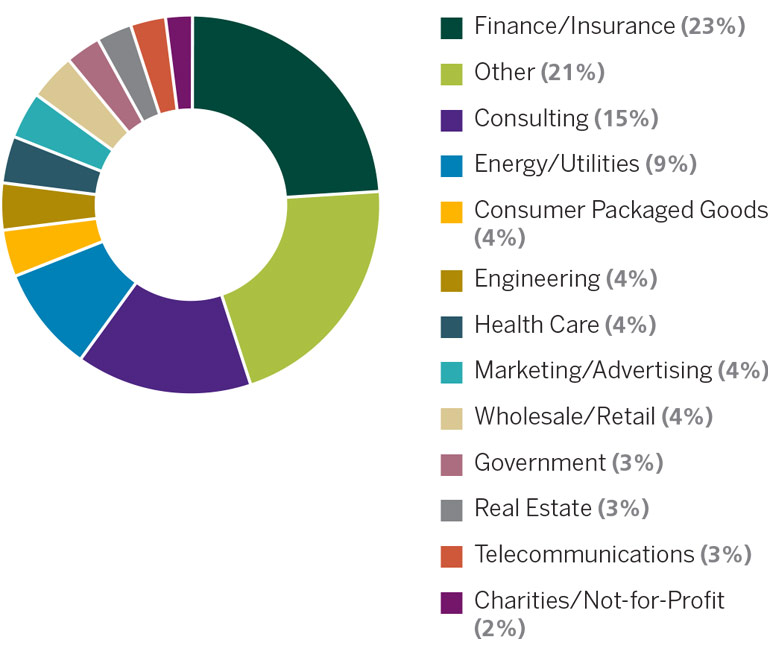 5 Years
Average Work Experience
Diversity of all types is important in the Ivey classroom. Ivey's MBA LGBTQ student club is an affiliate of Reaching Out MBA (ROMBA), a global initiative that educates and connects LGBTQ MBA students and alumni. Ivey students have access to ROMBA's vast network, giving students a stronger connection with LGBTQ+ MBAs from around the world.
Ivey LGBTQ Leadership Award
Recipients of this award will have demonstrated leadership and engagement within the LGBTQ community as an active member or ally, and seek to become professionals who will lead the way to equality in business education, in the workplace, and throughout society. Recipients will be eligible to receive the Ivey LGBTQ Leadership Award.
Award-Winning Campus
The Ivey MBA Program takes place in the 270,000-square-foot LEED® certified Richard Ivey Building located just across the street from the main campus of Western University. This award-winning facility was built to support Ivey's dynamic learning environment and unique community experience.
Case Classrooms
Designed for active conversation rather than traditional lecturing, Case Classrooms are the foundation of Ivey's case-based education model. State-of-the-art technology, tiered seating, and a semi-circular layout facilitates student engagement.
Breakout Rooms
For quiet work or group collaboration, approximately 70 breakout rooms line the entire outside wall of the building with approximately 40 additional study rooms suitable for recruiting interviews or small team discussions.
Tour the Campus
Ivey's campus is directly on a bus route and short drive or cab ride to downtown London with access to many bars and restaurants, theatre, and sports venues like the Budweiser Gardens. London offers more than 200 parks, extensive walking trails and bike paths.
The Richard Ivey Building is across the street from Western University's brand new $35 million dollar recreational facility that offers fitness classes, intramurals, squash courts, a swimming pool, aerobic equipment, weight machines, and more.
There are a number of housing options within a short walking distance to campus, although many students choose to live downtown.
There are numerous on-campus options for parking. Learn more about Parking at Western University. Many students also bike to school - there are bike racks available outside both entrances to the Ivey building. Additionally, Western University is well-served by London Transit. There are many bus routes that connect through campus.