I started my career as a banker in India at the time when e-commerce was disrupting the business landscape. I used to wonder how simple technology can totally change the way of doing things, such as buying and selling. Curious about developing creative solutions to existing business needs, I joined the startup world, leading Marketing teams for both the ed-tech and healthcare startups I worked for. While the experience was exhilarating, it made me realize I needed to develop my skills and an outlook for global businesses and economies. That is when I decided to go for an MBA program.
While searching for my options for a suitable MBA program, I looked at primarily three things: Firstly, the duration of the program. I wanted to get back to work faster, and as I had clarity about my post-MBA goals, an internship was not something that I was considering. Secondly, I had learned about the case-based method and its merits from my mentor who went to Harvard, so I was keen on programs offering that approach. And lastly, the strength of the alumni network. Ivey stood out on all three criteria. I believe the Admissions Committee at Ivey also saw the suitable fit in me because of my multi-sectorial background, my diversity of skills, and my continued commitment towards making a meaningful impact on the community at large.
Starting our MBA program with so many dreams and hopes, nobody expected a pandemic would throw us off our plans entirely. We all had quit our jobs, moved cities (and countries), signed leases, and were just beginning with classes when COVID hit. But the seamless transition to Zoom classes and the exceptional support from the faculty, the School, and the domestic students helped our class navigate the challenges and pivot quickly to the new form of classes, and get value. The crisis made our class grow closer and become more resilient, agile, and brave to face any situation. With online wine nights, the MBA Teachable Moments series, and virtual case preparations, Ivey's faculty, administration, and the student council have gone above and beyond to provide an exceptional MBA experience, which we will value and cherish all our lives. I am proud to be a part of the Ivey batch of COVID-19, who rose to the challenges and embraced them to become even more compassionate, more empathic, and more collaborative future leaders!
Additional Information
Forté Fellow
Ivey Business of Sports and Entertainment Club
Consulting Club
Entrepreneurship Club
Finance Club
Health Sector Club
International Business Club
Pride Club
Sales and Marketing Club
Technology Club
Women in Management Club
MBA '21
Ivey Business School
Urvashi Singh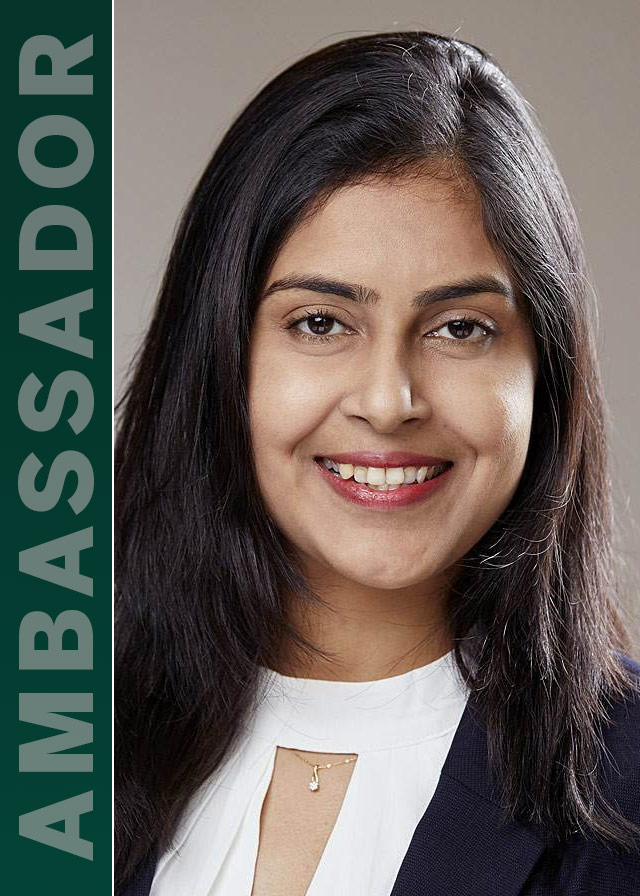 New Delhi, India